Microsoft ships Windows 10 Minecraft for the Oculus Rift, promises it's less barfy
Who knew that making VR turns jerky was actually a good idea?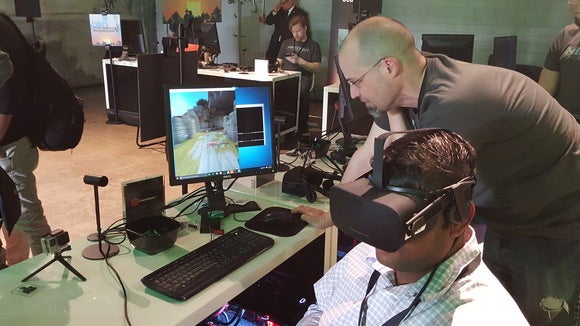 When Microsoft showed off Minecraft for the Oculus Rift last fall, the experience was quite realistic—and so was the nausea. On Monday, Microsoft said it's begun shipping the VR version of Minecraft to everyone, complete with two important tweaks that should help reduce VR vertigo.
Microsoft began shipping a free update to Minecraft: Windows 10 Edition Beta on Monday that added VR support for the Oculus Rift. It's actually the second VR-specific update Microsoft and developer Mojang have released for Minecraft, following the Minecraft for Gear VR edition the company released in May.
"Simulator sickness," one of the names given to the sort of nausea that can accompany virtual reality software, depends on a number of factors, all of which boil down to convincing your brain that what you're seeing is actually "real," rather than an illusion that should be dispelled. It's that disconnect that can cause all sorts of symptoms, not the least of which is vertigo or outright nausea.
Why this matters: Minecraft is actually a fairly sedate game, with just a few objects moving on the screen the majority of the time. That probably makes it a fairly good testbed for working out why users become dizzy. Hopefully the developers can share what works and what doesn't and improve VR for all.
A number of nausea-negating tweaks
While there's no magic bullet to totally eliminate nausea, there are a number of tricks that can help. Two of those features will directly affect the player, Microsoft said in a video that described the new features: an "emergency stop" button that can push the player out of the VR environment, and a staggered, jerky way of turning that Microsoft promises can actually reduce nausea.
"What is the best way that we can do this in VR, with the maximum amount of comfort?" Saxs Persson, one of the members of the Minecraft team, said in the video.
Persson showed how users can tap a button (the View button on the Xbox One controller, it appears) and instantly be pushed out of the immersive VR environment. This "emergency stop" doesn't actually turn off VR, per se, but it puts the viewer into a faux living-room environment, where Minecraft is being played on a 2D screen in front of the viewer. A tap of the View button returns the user to the 3D world.
The other major change the team made is totally counter-intuitive: Instead of turning in a smooth arc, the new version of Minecraft jolts players through a 22.5-degree turn. Microsoft's testing confirmed that the jerky turn apparently reduced nausea without a loss of control.
"Many things during the development have been very counter-intuitive for me, " said Tommaso Checchi, another member of the Minecraft team, in the video. "At the start I thought that the obvious thing was to make everything have a lot of inertia, make everything extremely smooth and elastic. That is apparently the worst thing you can do in-game."