Microsoft resumes Windows 10 Insider update delivery
Distributes build 10525, the first preview since July 23, to beta testers.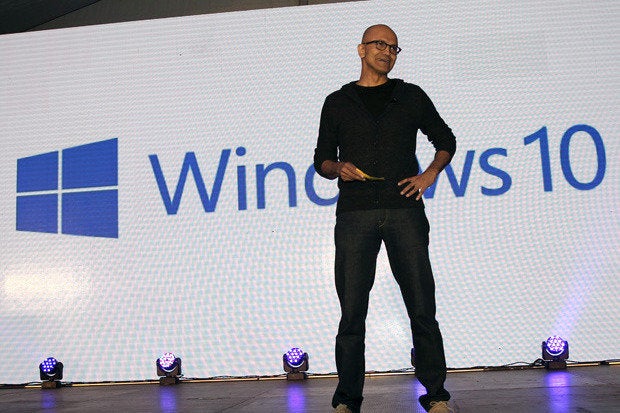 Microsoft CEO Satya Nadella addresses delegates during the launch of the Windows 10 operating system, July 29, 2015. Credit: REUTERS/Thomas Mukoya
Microsoft today issued the first refresh of Windows 10 to Insider participants since the OS's launch three weeks ago.
Windows Insider is the name for Microsoft's ongoing preview program, which kicked off last fall. Rather than close down beta testing with the official release -- as it has with past editions -- Microsoft will continue Insider as an integral part of its new servicing and maintenance model.
The build, labeled 10525, was announced Tuesday by Gabriel Aul, engineering general manager for Microsoft's OS group and the regular spokesman on Windows 10's update topics. Build 10525 was served to Insiders who had previously opted in to the "fast" subset, called a "ring," of the beta program.
Windows 10's launch build was tagged as 10240, which went public July 29 but had been handed to Insiders six days prior.
Aul called out just two changes in build 10525: Additional color options for personalizing some of the OS's core user interface (UI) elements, and enhancements to the operating system's memory management, specifically a cache of compressed "pages," or contiguous memory blocks. The pages are stored in virtual memory rather than written to the device's physical storage.
The compressed-page caching should result in "better responsiveness across Windows 10," Aul contended in a post to a Microsoft blog, and will free up physical memory -- the actual RAM available on a device -- so that more apps can be maintained in the former for quick recall and resuscitation.
The trade-off? "Since the system process holds the [compressed page] store in memory, its working set grows larger exactly when memory is being made available for other processes," Aul wrote. "This is ... the reason the System process appears to be consuming more memory than previous releases."
Memory page compression -- and storage in physical memory -- is not new. It has a two-decade history. Nor was Windows the first operating system to rely on it. In 2013, Apple debuted memory pressure-accommodating page compression, the tactic also deployed by Microsoft, with that's year's OS X Mavericks upgrade.
Microsoft has made much of Insiders' role in providing feedback to help it determine which features are worthy of adding to the production code, and for those that are, whether they're ready for mainstream adoption. Aul reiterated that today. But program members will also serve as the first external guinea pigs.
Only after Microsoft has quashed bugs reported by Insiders and determined that the build meets whatever quality bar it's established, will the Redmond, Wash. company roll out the code to the consumer update track, called "Current Branch."