Microsoft releases a Windows 10 'November update' with a smarter Cortana and more
Formerly known as "Threshold 2," you could call this the first service pack for Windows 10.
The runners-up
Although we've spotlighted several of the top features, many more await you. Here's a brief rundown of the rest of them.
The columns of Start tiles have expanded from three to four tiles across, while the number of tiles now supported by Windows 10 has increased to a whopping 2,048.
A new Xbox beta app (not the Xbox app, but the Xbox Beta app) now includes a handy feature to find your Facebook friends who have Xbox Live gamertags. It's a fun way to connect with old friends who happen to use Xbox.
A new feature (on by default) will alert you to any problems with USB-connected devices.
Microsoft edge supposedly syncs Reading List entries and Favorites, although in my testing it didn't work within the preview builds.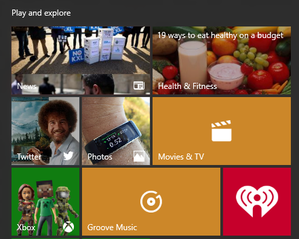 The wider Start menu. Credit: Mark Hachman
Unfortunately, some of these features still have some kinks to work out—at least if the beta builds are any indication. Microsoft's bug bashers can't knock off yet. Nevertheless, Microsoft has addressed some of the complaints users have had with Windows 10—and rest assured, the patching and update process will continue.
Previous Page 1 2 3 4