Microsoft releases a Windows 10 'November update' with a smarter Cortana and more
Formerly known as "Threshold 2," you could call this the first service pack for Windows 10.
Activation headaches (sort of) go away
Since the launch of Windows 10, the issue I've received the most questions about involves simply upgrading from Windows 7 or Windows 8 to Windows 10: is it going to erase all my files? What happens if I want to "nuke" the PC, and perform a clean install of Windows 10? A couple improvements have helped ease that pain.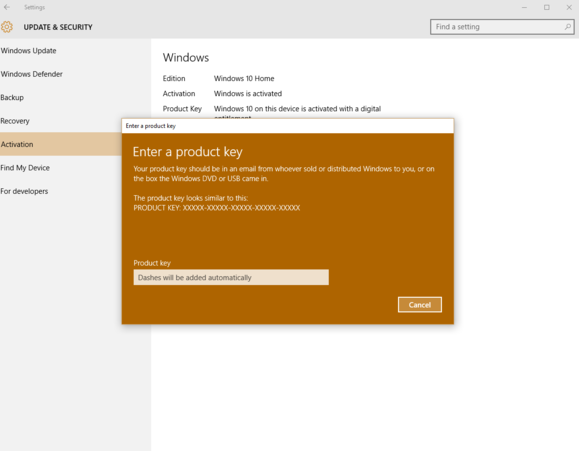 Windows 10's November update offers you to opportunity to add a license key after it's installed. Credit: Mark Hachman
Windows 10 hunts down your old license key within your PC and uses it to activate the installation. But if that doesn't work, you now have the option of entering the key either during or even after the installation (Settings > Update & security > Activation). If you do use a USB key to upgrade to Windows 10, Microsoft recommends that you remove the key as soon as the upgrade process begins, to avoid having to enter a product key. If you're too late, reboot.
Microsoft also said that it'll upgrade its Media Creation Tool to simply provide a single Windows 10 image that will upgrade any 32-bit or 64-bit device, whether it be Home or Pro. The upshot is that this should help simplify the upgrade process for those who haven't begun it.
A brighter messaging future
One trick I really like is Windows 10's newfound ability to send a SMS text directly from Cortana. But how she does it is what's really cool: Instead of tethering your phone via a cable or Bluetooth, the PC's Cortana looks for a Windows phone that you're logged into and automatically sends the text. It even pops up a notification on the phone alerting you that your text was sent.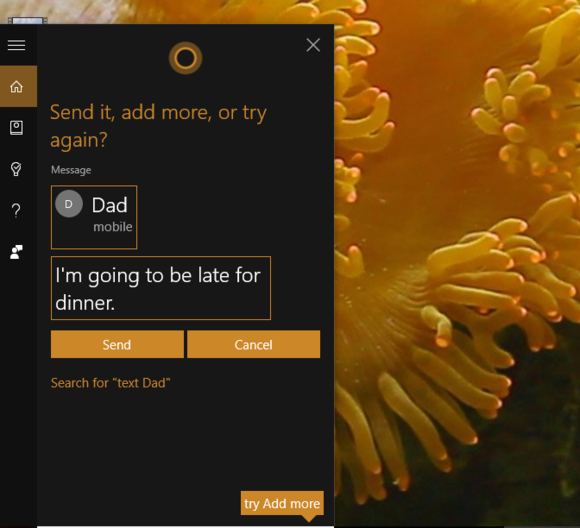 Today, you can tell Cortana to "text" someone. Eventually, will you able to tell Cortana to "message" someone, and it will use either Skype or SMS? Credit: Mark Hachman
It's the first step in the eventual integration of messaging directly into Windows 10. The new build should allow you to download a Messaging app, where you can carry on Skype conversations without the need to drop into the Skype app itself. The idea is that, on a Windows 10 phone, SMS and Skype and other messaging apps will all live within the same app. You can see a bit of this, too, with Mail's unified inbox.
Unfortunately, my Windows phone (running a preview of Windows 10) didn't turn around and ping my PC when my father texted me back. We can hope this will be more fully fleshed out in the final build.
Previous Page 1 2 3 4 Next Page