Microsoft releases a Windows 10 'November update' with a smarter Cortana and more
Formerly known as "Threshold 2," you could call this the first service pack for Windows 10.
Microsoft's answer to the Chromecast
Microsoft originally dubbed this "media casting via Microsoft Edge," and mentioned how Windows 10 can now cast to any Miracast or DLNA device connected on the same network. In reality, you probably won't know what devices on your network are compliant until you try to click the ellipsis menu on the upper left and select Cast Media to Device. In my house, they included the Xbox One as well as a Roku 3.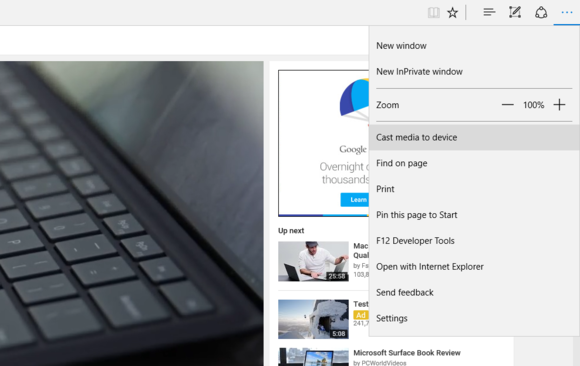 Media casting is a neat idea in the Windows 10 November update, but it may need a little work to buff out some of the bugs. Credit: Mark Hachman
The idea is that Windows 10's Edge browser will allow you to stream YouTube videos, Facebook photos, and Pandora songs from your Edge browser to your other devices. Unfortunately, the preview software just didn't seem to work. I was able to push a YouTube video from a Surface 3 to the Xbox One just once, where it stalled after a second or two. And Edge asked for a PIN code from the Roku 3, which that box failed to provide. But for the Xbox One and Roku 3, there are already native YouTube apps that do a better job. (There may be other DLNA Miracast devices that lack native apps.)
I'd like to see this idea come to fruition, if only to provide the numerous Roku boxes out there with screencasting capabilities. Unfortunately, Google and its $35 Chromecast already perform these functions with ease—and the Chromecast handles protected content; Microsoft says it doesn't.
Snapped apps become even snappier
One of the joys of Windows 10 is Snap: Simply by holding the Windows key and an arrow key, you can quickly order a highlighted window into half or even a quarter of the screen. But if you want to fiddle with the alignment, you're forced to manually resize one window, then the other until everything's just so. A new toggle in the Settings app does away with this.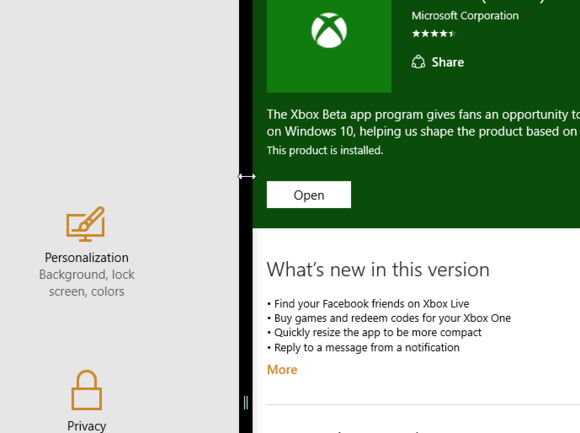 With the November update within Windows 10, you can go back and forth to get the snapped window width just so. Credit: Mark Hachman
If you so choose, two windows snapped adjacent to one another can be adjusted by "grabbing" the border between the two and sliding the windows back and forth. Yes, that's it: It's an extremely subtle, simple, yet useful improvement.
Also, while in tablet mode, apps can now be snapped to the left and right. Apps can now be dismissed by swiping down—a feature that was originally part of Windows 8.
Previous Page 1 2 3 4 Next Page