Microsoft brings Bash to Windows with new beta build
Other new features include a dark mode, Edge extensions, and smartphone-finding capabilities.
One of the major announcements from Microsoft's Build developer conference last week was that the company was bringing the popular Bash command line interface to Windows 10 with a new Linux subsystem. Now, developers can give it a shot with a new beta build of the operating system, which Microsoft released Wednesday morning.
People on the Windows Insider Program's fast ring will get access to the build, which includes a wide variety of other new features, too. Foremost among them are a set of new Cortana features that link their Windows or Android phones with users' PCs in a variety of ways.
When Windows smartphones or Android phones with the Cortana app run low on battery life, Microsoft's virtual assistant will tell users to plug in their devices. Cortana can also help users locate their devices through geolocation and even ring the phones.
When someone asks Cortana for directions on a PC, the digital assistant will pull the directions up on the desktop and send them to the user's smartphone.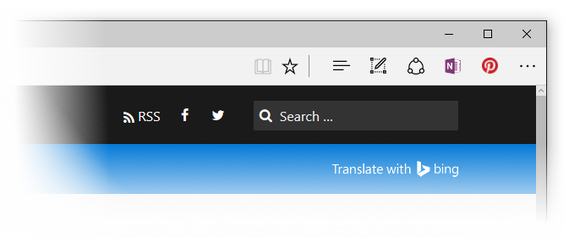 Credit: Microsoft
Microsoft Edge will get a new set of browser extensions, with support for a Pin It button to allow users to add images to Pinterest boards and a clipper for Microsoft OneNote to let users add Web content into their OneNote notebooks. Existing extensions like Reddit Enhancement Suite are getting updates, too, with one catch: Any installed under the last build won't work, so users will have to re-install those they want.
With this build, Skype users can try out the popular messaging and calling service's new Universal Windows Platform app, which will replace the existing Skype app for Windows when it officially launches.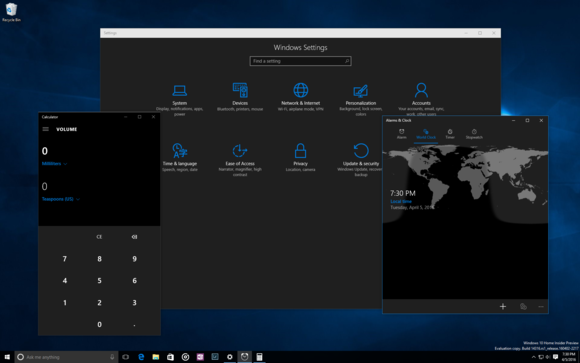 Windows 10's new dark mode. Credit: Microsoft
Those people who have been hankering for a dark mode in Windows 10 can also try it out with this update. Microsoft also released a new set of emoji with a fresh design. The new feature will support a wide variety of skin tones for some of the human figures.
Microsoft sandwiched in a whole bunch of other improvements, too, including changes to virtual desktops and remote access, along with the ability to automatically switch on Windows 10's battery saver mode.
In addition to the new features, this build also includes a couple of major bugs. Large files downloaded through Microsoft Edge may stall at 99 percent completion. To work around that, users should close Edge and rename the file, which should give them access to it. Doing so bypasses security checks, however, so files from untrusted sources are probably best downloaded in another browser.