Microsoft breeds new generation of Windows 8-compatible mice
Meet the second generation of rodents optimized for Windows 8: the Sculpt Mobile Mouse and the Sculpt Comfort Mouse.
Windows 8 has changed the way we navigate the desktop, so it's not surprising that Microsoft has a pair of new wireless mice designed specifically for Windows 8 (they're also compatible with Windows 7 and the Mac OS X OS).
Sculpt Mobile Mouse
Microsoft's Sculpt Mobile Mouse will fit into the tightest backpack or pocket while you're on the go, and it will keep you from swearing at your notebook's annoying trackpad or touchscreen when you reach your destination.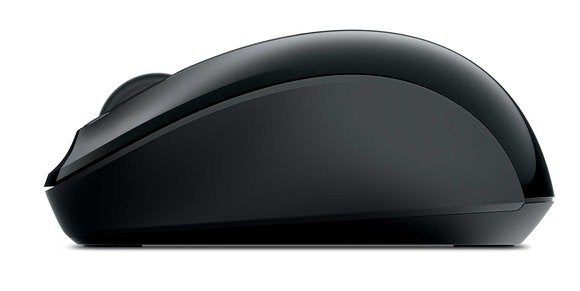 The Sculpt Mobile Mouse is compact enough to fit into the tightest pocket on the go.
The mouse is very small—in fact, it's almost as long as it is wide. As such, the mouse isn't the most comfortable to grip if you have large hands: Your palm will drag over the surface, but the high arc will keep your fingers resting happily. Those with smaller paws will appreciate its ambidextrous design and the rubber sides that provide a good grip.
The mouse uses Microsoft's BlueTrack laser technology, which enables it to track over any almost any surface (except for clear glass or mirrored surfaces). When you're on the road, the only available mouse pad might be the fabric covering your leg, and the Sculpt Mobile works just fine in that scenario.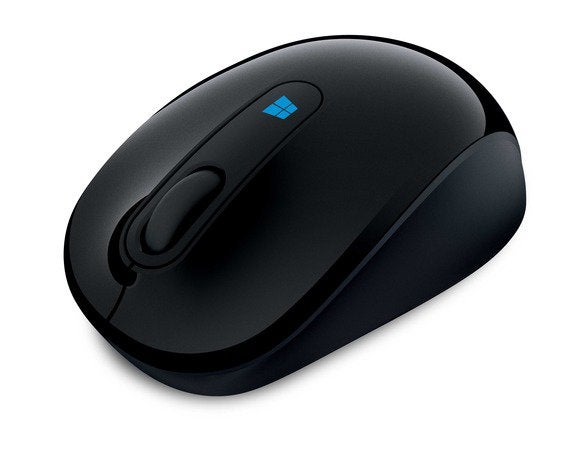 The Sculpt Mobile Mouse can track over almost any surface except clear glass or mirrors
The only real standout functionality of the mouse is the single Windows logo button right behind the scroll wheel. Pressing it while using Windows 8 will take you directly to the Start screen. Press it again and you return to the app you used last. If you're using Windows 7, the button opens the Start Menu. The button is particularly convenient for Windows 8 users who don't have a touchscreen display or who just prefer to keep their hands on the mouse and keyboard.
The mouse has a four-way scroll wheel that's useful for navigating screens (whether they be websites, documents, or the Windows 8 Start page) on mobile devices with small screens. Spinning the wheel to and fro scrolls the page up and down, while pushing it left or right pans the page back and forth across the display.

The four-way scroll wheel can spin to and fro or push left and right for navigation.
The Sculpt Mobile connects to the host PC via a tiny wireless USB dongle, which you can stow in a socket on the bottom of the mouse while you're traveling so it doesn't snag while sliding in and out of your bag. This mouse is a good candidate for frequent travelers, but the single-function Windows button isn't a compelling reason to upgrade.