Mammoth Windows 10 Insider preview adds new Anniversary Update features galore
This is your first chance to try out some of Microsoft's Anniversary Update features. The only drawback? "Rough edges." Run this on a test PC.
If you're a member of Microsoft's Windows 10 Insider program, today is like Christmas. Build 14328 of Windows 10 for PCs and Windows phones packs Anniversary Update features like Windows Ink, changes to the Action Center, and better battery life into what's probably the largest Insider update ever. Get ready to freak out.
Though Microsoft stuffed tons of updates into this new build, some should feel familiar. Bugs halted the deployment of Windows 10 Mobile build 14322 to PCs, for example, but its updates to the Action Center and other improvements have now been added. This is also your first chance to experience several Anniversary Update features due this summer, including Windows Ink and Cortana on the Windows 10 lock screen.
But Microsoft has also tweaked virtually every element of the Windows 10 interface: the Start menu, the Action Center, the lock screen, the taskbar, and the Settings menu have all been revamped in some way. And if you have a Connected Standby-capable PC like a Microsoft Surface, expect better battery life as well.


Yes, you do need these stinkin' badges: the updated Taskbar in Build 14328 includes "badges" that provide more information about UWP apps.
There's just one catch: as experienced Insiders know, many features mean many bugs. Microsoft explicitly warned that the new build contains code "with very little stabillization," meaning that the new build, available to Fast Ring subscribers, will likely have issues. You might want to test this on a secondary, non-essential PC.
Why this matters: As Microsoft prepares to release its Anniversary Update this summer, Windows 10 Insiders are getting a chance to try out and help debug some of Microsoft's new features. Just to be clear, though—this is not the Anniversary Update itself; additional new features will be shipped as part of future builds, a Microsoft spokeswoman said via email.
Windows Ink: Workspace, Sketchpad, Sticky Notes and more
Windows has always been at the forefront of making human–computing interaction more natural, and the digital pen is the next iteration of that, Li-Chen Miller, group program manager for the Ink team, explained as part of Microsoft's introduction to Windows Ink.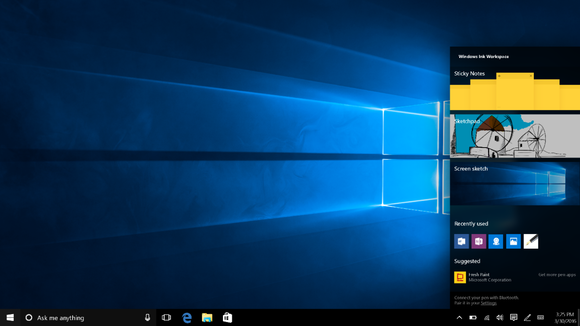 The Windows 10 Windows Ink Workspace. (What a mouthful!)
In a sense, Ink is a recognition that Microsoft has bundled a pen with the Surface Book and Surface Pro 3 and 4—but there hasn't been that much to do with it. That's changed completely with the creation of a Windows Ink Workspace within Windows 10. Click the pen icon on the toolbar—or the button on top of the Surface Pen, on a new PC—and Windows 10 will launch the Windows Ink Workspace, a collection of pen-enabled apps that will appear as a right-hand nav bar on your Windows desktop. If you don't have an active pen but your PC has a touchscreen, you can right-click the taskbar and enable finger-inking.