macOS Sierra FAQ: What you need to know about the new Mac operating system
Got questions about Apple's upcoming Mac operating system? We have answers.
If you do decide to run the beta, remember that it's for your eyes only. You're not supposed to post screenshots of the Sierra beta on the internet, and you're not supposed to discuss the software with anyone who is not also enrolled in the Beta Software Program.
When the final version of Sierra is released this fall, you can upgrade from the beta.
Will it run on my computer?
Here's the list of Macs that will run macOS Sierra.
MacBook (Late 2009 and later)
MacBook Air (2010 and later)
MacBook Pro (2010 and later)
Mac mini (2010 and later)
iMac (Late 2009 and later)
Should you upgrade to macOS Sierra?
Once you've determined that you have compatible hardware, deciding to upgrade is a personal choice. If you absolutely depend on a specific app and would be crippled without it, you should wait to make sure from that app developer that their software will work with macOS Sierra.
If you do decide to upgrade on macOS Sierra's ship date, make sure you back up your data first. If you end up having a serious problem, you can revert back using your backup.
I heard that Siri is in macOS Sierra. True?
It's true. There will be a Siri icon in the dock. Clicking on it activates Siri. You can use it as you would with your iPhone, like say, if you need directions, are trying to find a nearby restaurant, or want information on a topic.
You can also use it to find files on your Mac. For example, you can tell Siri to find all the files with with word "report" in it, and Siri will list those files.
Siri also lets you work with other Apple apps. You can take Siri results for, say, an image, and then drag and drop the image into a Keynote presentation. You can have Siri find a location in Maps, and then drag the location into an email.
Apple has not announced a third-party API for macOS Siri, so Siri may not work with third-party Mac apps.
How to use Siri in macOS Sierra
I also heard that Apple Pay is coming to the Mac. Yes?
Yes. When you're shopping online and you see an Apple Pay button, you can click on it to use Apple Pay to pay for it. You still need your iPhone, however. Apple Pay on the Mac uses the iPhone's Touch ID to verify your purchase; you can also press your Apple Watch side button twice.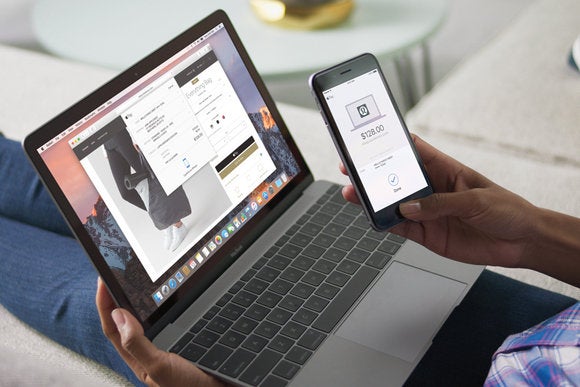 Apple Pay on the Mac is coming with macOS Sierra.