It's (still) Windows 95's world. We just live in it.
From the Start menu and Taskbar to and device autodetection and free, bundled Web browsers, here's a brief history of how Windows 95 became the operating system that time never forgot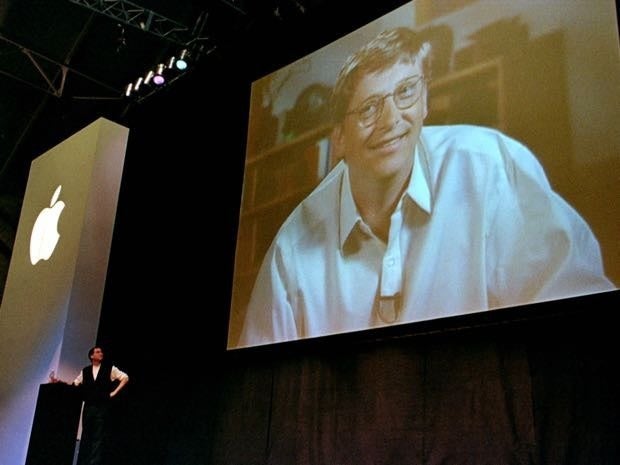 Jim Bourg/REUTERS
Apple Computer co-founder Steve Jobs (L) pauses in his keynote address at the Macworld Expo in Boston to allow Microsoft Chairman Bill Gates (R) to address the crowd via satellite link, August 6, 1997. Jobs announced that Microsoft invested $150 million dollars in the company and agreed to a cooperative deal with its longtime rival. "We need all the help we can get," Jobs said to the crowd.
Which brings us to the final way in which we're living in Windows 95's world. It's easy to see our modern computers' genesis in Windows 95's UI or Internet capabilities. But 1995 was still full of the echoes of the previous computer age. Remember, the gaming platform DirectX was supposed to be luring developers away from was DOS. Commodore was still selling PCs. Computer labs across the country were still full of Apple II's. And IBM, still a poweful player in the PC industry, was pushing its own operating system, OS/2.
Windows 95 was a juggernaut that snuffed that world out for good. It "had a significant impact on the market by eliminating the use of MS-DOS and OS/2," says Thomas Koll, a former Microsoft executive who's now the CEO of software developer Laplink. By 1997, Windows 95's victory was so total that Microsoft was giving money to its competition just to avoid being deemed a monopoly by the government (as noted, it didn't work).
Today, Windows still has a better than 90 percent share of the desktop market. To defeat Windows 95 and its spiritual descendents, Microsoft's opponents had to invent whole new computing platforms. The PC, unsexy commodity though it may be, is still Microsoft's kingdom.
Previous Page 1 2 3 4 5