It's (still) Windows 95's world. We just live in it.
From the Start menu and Taskbar to and device autodetection and free, bundled Web browsers, here's a brief history of how Windows 95 became the operating system that time never forgot
Let's start with that Start button. Credit for it goes to Danny Oran, a behavioral psychologist who had studied with with the famous B.F. Skinner. Among the projects he worked on with Skinner was a doomed attempt to teach chimpanzees to talk, for which he ended up building a sort of keyboard-like wooden frame. In the process, he learned that it was easiest to grasp UI elements sequentially, with an obvious starting point, and after watching test subjects (including a literal rocket scientist) struggle to figure out how to access Windows' features, he came up with the idea of a single button that led them to everything. Originally labelled "System," it eventually got the more user-friendly "Start."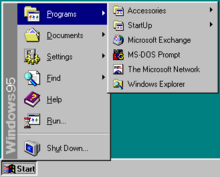 Microsoft Windows 95 Start menu
Oran also came up with the idea that developed into the Taskbar along the bottom of the screen, though he originally envisioned it as a series of tabs along the top. This solved another fundamental problem of Windows 3.1: it was difficult to tell what programs were running at any given time, and users often would launch multiple instances of the same app.
A third important advance in the Windows 95 UI was a little less transformative, but important nonetheless. Windows 3.1 had featured a drop-down menu at the top left of each application window that provided a number of options as to what you could do with that windows; Windows 95 instead put three buttons at the top right, one for each of the most common actions: minimize, maximize, close. As with the Start button and the Taskbar, the goal was to make your options obvious, without you having to hunt for them. These three UI elements, all of which are still present in more or less identical form, may be Windows 95's greatest legacy to history.
The sincerest form of flattery
At this point, as I extol Windows 95's landmark UI, I know that a certain segment of you are growing increasingly irate. I mean, of course, the Mac faithful, who 20 years ago joked that Windows 95 was Macintosh 87. Apple may not have invented the desktop computing metaphor, but they certainly refined and popularized it, and in this regard Windows 95 was definitely closer to what Mac users had enjoyed for years than it was to Windows 3.1's clumsy implementation.
And yet: I'm writing this article on my iMac running OS X Yosemite, and if I look to the top of the window into which I'm typing this text, I see three buttons, to close, minimize, or maximize the window. If I look to the bottom of the screen, I see the Dock, which lets me know what applications I'm running, and where I can stash minimized documents if I want. Neither of these features were present in System 7.5, the version of the Macintosh operating system shipping with new Macs in August of 1995.
Previous Page 1 2 3 4 5 Next Page