Installing Windows 10: What to do when there's not enough storage space
Here's how to temporarily clear up more space on your hard drive.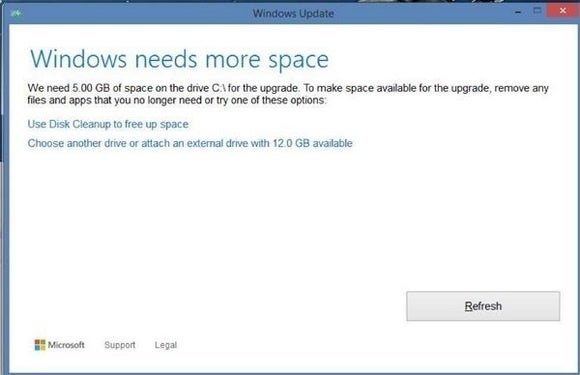 Asus
To use an external drive, proceed with the installation until you reach the "Windows needs more space" screen, then select Choose another drive or attach an external drive. Select the drive you want to use from the drop-down menu.
One thing to remember: When choosing this option, your previous version of Windows will be stored on the external drive, under a folder called Windows.old. Should you decide that Windows 10 isn't for you, you'll have to connect the external drive to roll back to Windows 7 or Windows 8.
How to reclaim storage space after upgrading to Windows 10
If the Windows 10 installation leaves you with less space than you'd like, you have a couple of easy options.
The first is to remove your previous Windows install. Obviously, only do this if you're completely satisfied with Windows 10 and have no intention of returning to an earlier version (or if 31 days have passed since the upgrade and you can't go back anyway). Return to Disk Cleanup, and this time, select Clean up system files. Select Previous Windows installation(s) from the list, then hit OK.
Another option is to compress the operating system if it's not compressed by default. Open Command Prompt as an administrator. (Do this by typing "Command" into the search box, then right-clicking Command Prompt, then clicking Run as administrator.) Then, enter the following command:
compact.exe /compactos:query
If the system is not compressed already, enter the following:
compact.exe /compactos:always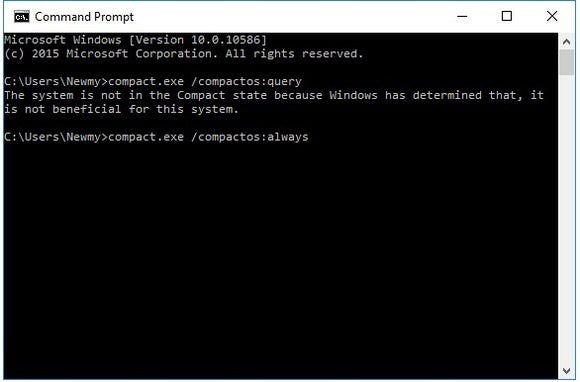 Compressing the operating system may cause a slight performance hit, but it could free up a few gigabytes on your machine.
For more advice on Windows 10, check out the best tips, tricks, and tweaks, and other fixes for common update woes.