HP Chromebook 13 review: Google's Pixel has a rival for best Chromebook ever
Battery life could be the one thing that falls short of outstanding.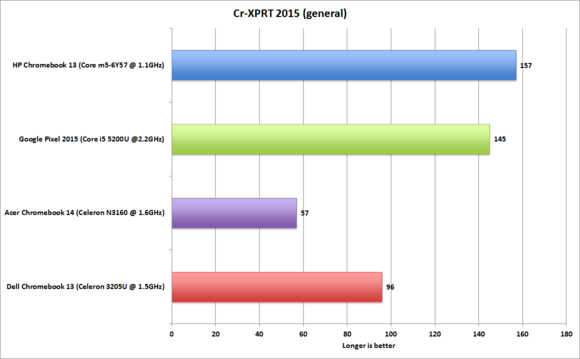 The Cr-XPRT performance test measures Chromebook performance in basic productivity tasks as well as more demanding activities, such as watching movies or playing games. HP's Chromebook 13 finished in the lead—by a small margin—compared to the Chromebook Pixel. To be fair, both the Acer Chromebook 14 and Dell Chromebook 13 offer good performance for everyday tasks, even though they can't touch the HP Chromebook 13 or Google Chromebook Pixel.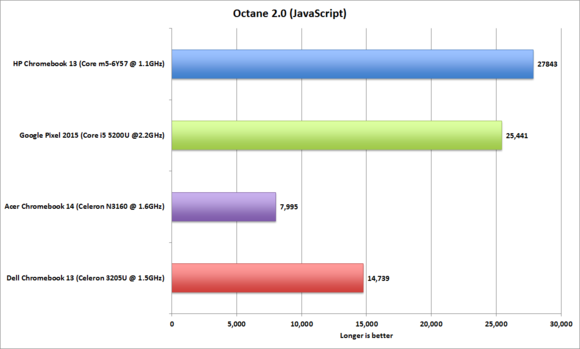 Google's Octane 2.0 JavaScript benchmark simulates advanced browser-based activities, including productivity applications, games, and interactive content. The HP Chromebook 13 came out ahead yet again.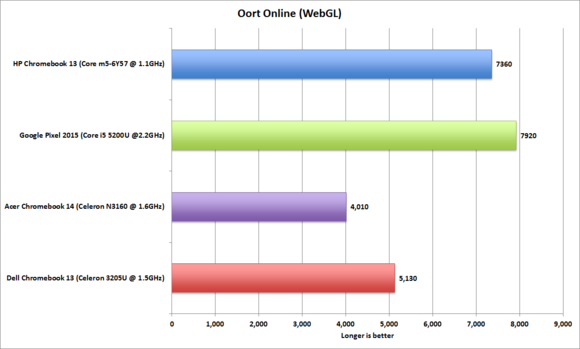 Melissa Riofrio
The tables shift slightly in OortOnline, a WebGL test that focuses on graphics-intensive applications and games. Here, the HP Chromebook 13 falls slightly behind Google's Chromebook Pixel. While the difference is small, I ran some WebGL experimental animations on both the HP Chromebook 13 and the Google Chromebook Pixel. I noticed that the HP could sometimes get a little stuttery in its renderings. The Chromebook 13 managed the more typical task of streaming movies just fine, though.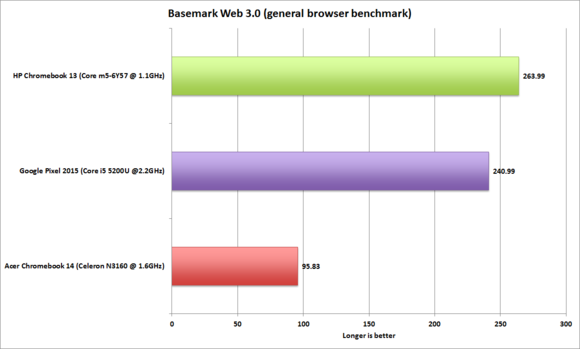 Basemark Web 3.0 recently replaced Browsermark 2.1 as Basemark's comprehensive browser benchmark. The tests cover web-based technologies including WebGL 1.0.2 and WebGL 2.0 real-time graphics, as well as JavaScript. The Chromebook 13 finished a nose ahead of the Chromebook Pixel and far ahead of Acer's Chromebook 14. (Note: We couldn't add the Dell to the Basemark chart, as it was tested with Basemark's predecessor, Browsermark.)
Battery mileage may vary...a lot
Battery life is the one question mark on an otherwise outstanding laptop. HP says the Chromebook 13's battery life will range from 8.75 to 11.5 hours with the QHD+ display on our unit. You know as well as we do that laptop mileage will vary. Still, assuming you're not cranking up the display brightness all the way or pushing the computer relentlessly, your battery life should be within the ballpark of what the vendor specifies. In our tests, using Cr-XPRT-2015's projected-life benchmark, we usually get pretty close.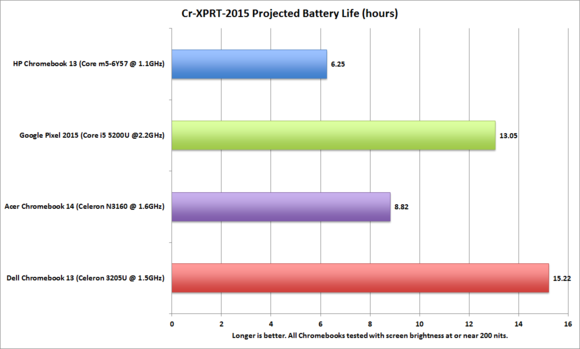 In the case of HP's Chromebook 13, however, our results fell noticeably short in four out of five passes. The laptop has a 3-cell, 45Wh Li-ion battery. We set the laptop at or close to 200 nits' brightness and obviously start the test with a full battery. In one pass, it delivered a projected life of 8.13 hours. In all other passes, it ranged from 6 to 6.38 hours of projected life. On the same test, Google's Chromebook Pixel hit 13.05 hours, and Dell's Chromebook 13 was projected to last 15.22 hours. Six hours is pretty good, just not close to what HP promised. We've discussed our results with HP and will let you know if we learn more.
Previous Page 1 2 3 4 Next Page