HP Chromebook 13 review: Google's Pixel has a rival for best Chromebook ever
Battery life could be the one thing that falls short of outstanding.
The keyboard tray has a great-feeling, island-style keyboard and a good-sized trackpad with a diamond-chiseled rim. A Bang & Olufsen speaker stretches over most of the top, just underneath the piano hinge, and delivers pretty good sound (albeit a little tinny).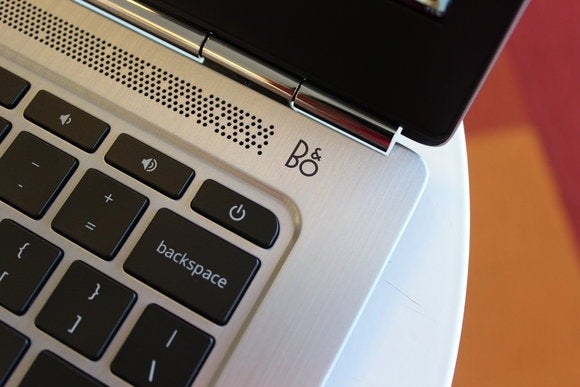 A Bang & Olufsen speaker runs almost the full width of the HP Chromebook 13's keyboard tray. The sound quality is pretty good.
The 13.3-inch IPS display offers a first for Chromebooks: QHD+ resolution (3200x1800 pixels), which is higher than the Google Chromebook Pixel's 2560x1700 resolution on its 12.85-inch display.
Almost needless to say, the image quality was as dazzling as the Pixel's. Note, however, that actually doing any work at this resolution could be frustrating, because icons and dialog boxes shrink to unreadable sizes. (Can you see them in the photo below, even if you click the photo to enlarge? Therein lies the problem.)
At left, HP's Chromebook 13 showing off 3200x1800 pixels, compared to Google's Chromebook Pixel (2nd generation) at right, maxing out at 2560x1700 pixels.
Better to stick with what HP calls the "Best" resolution in the display settings, a much more readable 1600x900. That's also the resolution we used for all performance testing.
I have a couple of remaining questions about this display. First, why no touchscreen? HP says a touchscreen version will be available later this year (no doubt for more money and a little more weight). More immediately, what's with the jarringly plain, black-plastic bezel around this beauty? The Pixel stretches the glass all the way to the edge for a seamless look. If that wasn't in the budget for the Chromebook 13, I'm surprised HP didn't at least spring for an aluminum-look plastic.
High-end performance
Before we talk about the HP Chromebook 13's performance, it's important to note that this is the first Chromebook product line to use Intel's 6th-generation Skylake processors—specifically, the Core m mobile chips. The lowest-end model, which starts at $499, has the Pentium, while the other three models have core m3 ($599), core m5 ($819), and core m7 ($1,029), respectively. Our core m5 SKU also comes with 8GB of LPDDR3 RAM and 32GB of eMMC storage.
These chips also allow the Chromebook 13 to be serenely fanless. In the course of testing I noticed some warmth under the upper-left area of the keyboard, but not to an alarming degree.
For comparison I updated and retested the Chromebook Pixel, which has a 5th-generation (Broadwell) Core i5 5200U and has been our star performer. A look at these charts (HP's Chromebook 13 is the topmost in each) will show you why even the lofty Pixel needs to up its game.
Previous Page 1 2 3 4 Next Page