HP Chromebook 13 review: Google's Pixel has a rival for best Chromebook ever
Battery life could be the one thing that falls short of outstanding.
The HP Chromebook 13 I'm reviewing just got a big compliment: "If HP doesn't want that back when you're done, let me know." That came from one of my coworkers, who uses a MacBook Pro. He admitted he was lured by the Chromebook 13's slender profile and brushed-aluminum sheen.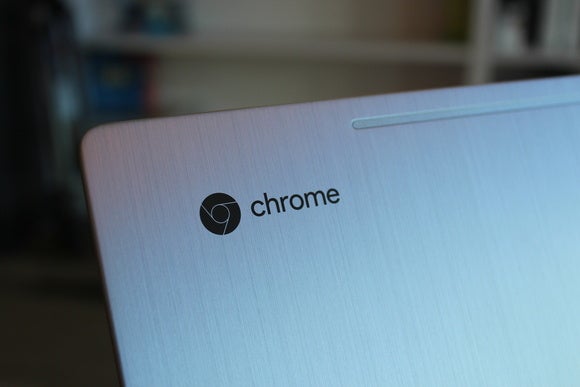 HP's Chromebook 13 has a brushed-aluminum and magnesium shell.
No doubt about it, HP made a beautiful-looking laptop that no one will mind showing off. The Chromebook 13 also very powerful, however, and that helps it outshine the similarly priced Dell Chromebook 13 in speed as well as looks. The Acer Chromebook 14 looks similar and costs a lot less, but it can't match the HP Chromebook 13's performance.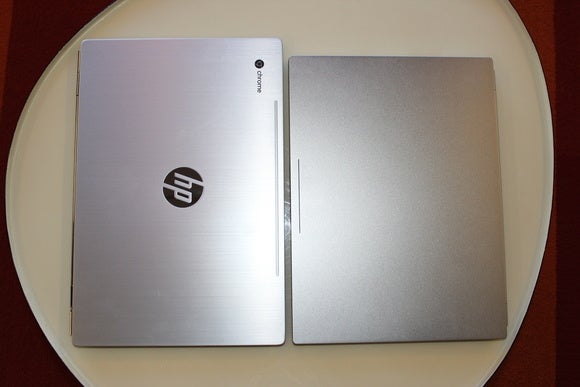 HP's Chromebook 13 (left), side-by-side with Google's Chromebook Pixel (right). Both use aluminum in their shells for lightness and luster.
As for Google's Chromebook Pixel flagship (specifically, the second-generation, 2015 model), the HP Chromebook 13 is its first serious competition. Our review unit, the third-highest of four SKUs, priced at $819, performed on par with the $999 Chromebook Pixel in our tests, plus it has a higher-resolution display.
The only thing about the Chromebook 13 that might be less than outstanding is the battery life, which fell well below HP's spec in our tests, though it's still pretty good. If you didn't know before that device battery mileage may vary, here's yet another example.
Let's dive deeper into this new machine, which should have all other Chromebooks worried.
High-end design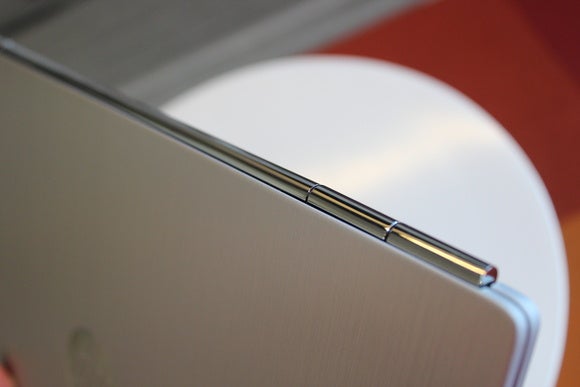 The chrome-plated piano hinge on the HP Chromebook 13 is beautiful and very strong.
HP says the Chromebook 13 is the slimmest in its class at just 0.51 inch thick, and it's light at just 2.65 pounds (not counting the 0.55-pound AC adapter).
It has an aluminum-magnesium chassis with a brushed finish, and a swanky chrome-plated piano hinge that means your lid's edge stays well above your work surface.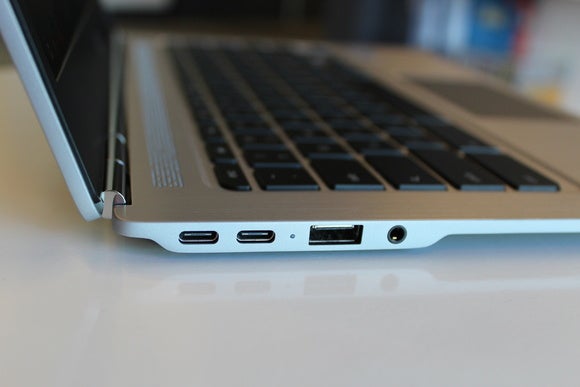 Melissa Riofrio
HP built a special, wider "chin" on the HP Chromebook 13's left side to fit a USB-A port along with two USB-C ports.
Because the Chromebook 13 is so thin, HP had to build a little "chin" into the left side to accommodate a few ports: two USB-C and one USB-A (with the lower throughput of just 5Gbps instead of 10Gbps, alas), plus the audio jack. On the other side is a microSD card slot (I'm sensing that good ol' SD card slots are on their way out).