How to use Optimized Storage in macOS Sierra
This new feature in Apple's latest Mac operating system promises to free up precious storage space.
If you decide to turn this feature off, you will notice that there's no way to do so in this interface. You do it in the Finder preferences; in the Finder, select Finder > Preferences, then click Advanced. Uncheck the box for "Remove items from the Trash after 30 days."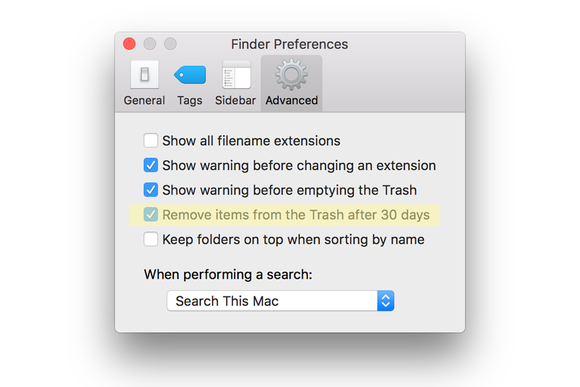 If you decide you want to turn off Empty Trash Automatically, you can do so in the Finder preferences.
Option 4: Reduce Clutter
This is an interface you can use to sift through your files and figure out which ones to delete or move to another storage medium. It's more efficient than opening a bunch of Finder windows and looking at the files that way. Also notice that when you click on the Review Files button, it's the same as selecting Documents in the left column.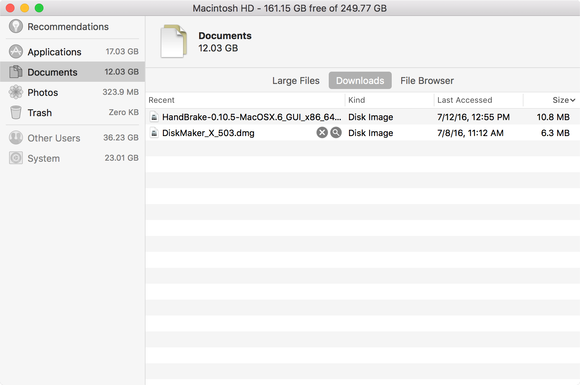 Reduce Clutter is the same as selecting Documents in the left column.
There are three different ways to view the files on your Mac.
Large Files lists the files on your Mac from the largest to the smallest.
Downloads shows what's in your Downloads folder.
File Browser lets you navigate your storage device. It's like viewing a Finder window in List view.
iOS Backups (not pictured). If you sync your iOS device to your Mac, iTunes keeps a few olders backups, in case you want to restore to a previous point in history. These backups take up a lot of space, so you may want to delete older ones.
In Large Files and Downloads, if you move your cursor over a file, you can then click on the X button to delete the file, or click the magnifying glass to see the file in the Finder. In the File Browser, you need to right-click a file to move it to the Trash.
What's in the left column of the window
The items that appear in the left column vary. What appears depends on how you use your Mac. For example, if you use Mail, then you'll see an entry for Mail. If you use GarageBand, there will be an entry for GarageBand.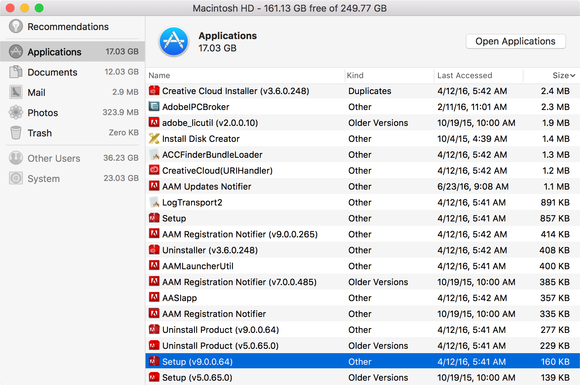 Applications can be deleted through Optimized Storage.
As of the macOS Sierra Public Beta 4, there is an Applications option in the left column. This provides a view of all the applications on your computer, and lists them by size. When you place a cursor over an app, you get the delete and Show in Finder icons, like the ones that appear in Documents. But the delete function didn't work for me. I tried to delete several apps this way, and the apps were still there, even after I restarted the computer. So it's unclear if this delete method also removes all of the files the apps installs during the installation, a longtime pet peeve.
Previous Page 1 2 3 4 Next Page