How to use Optimized Storage in macOS Sierra
This new feature in Apple's latest Mac operating system promises to free up precious storage space.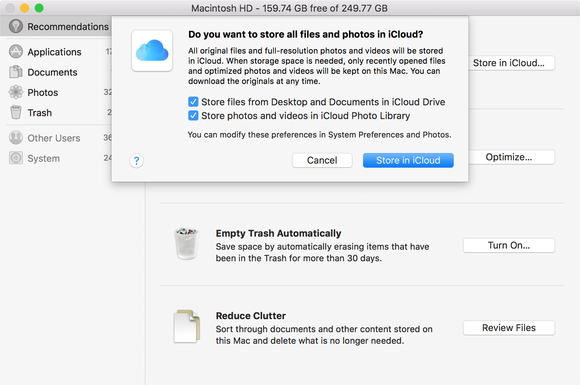 Fine-tuning the Store in iCloud option.
If you want to modify the Store in iCloud options after you have turned it on, you have to go to the iCloud system preferences for Desktop and Documents, and the Photos app preferences for iCloud Photo Library.
Option 2: Optimize Storage
Video files take up a lot of space. If you like to watch TV shows and movies from iTunes, you may not realize that the videos you have already watched are just sitting on your Mac. Optimized Storage automatically removes these files for you. You can download them from iTunes again whenever you want.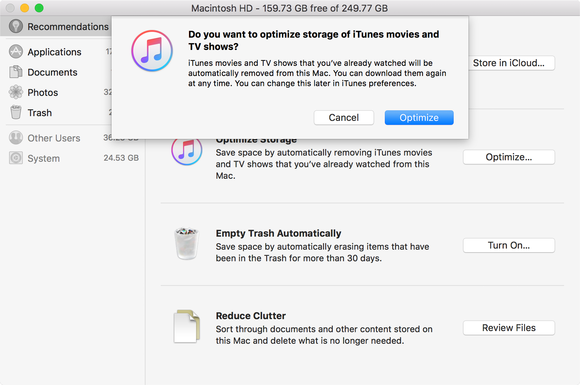 Automatically removes iTunes TV shows and movies you've already watched.
If you turned this on and decide later that you want to turn it off, you do so in iTunes (iTunes > Preferences > Advanced).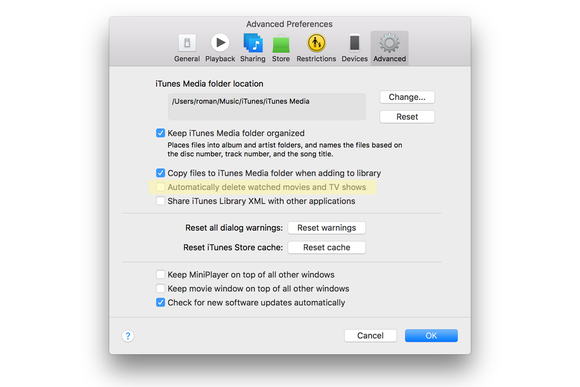 Modify the Optimize Storage settings in iTunes' preferences.
Optimized Storage also works with email attachments. These files are automatically removed from your Mac. The idea here is that since the email attachment is being stored on an email server, there's no need to keep it on your Mac. You can simply get the attachment from the server again, though if you've deleted the email completely, the attachment is gone, too.
To use Optimized Storage with email attachments, you must use Apple's Mail app. You can use any of the popular email services, like Gmail, Yahoo, and Outlook.
Option 3: Empty Trash Automatically
What's cool about this option is that it's basically like the Recently Deleted folder of iOS's Photos app. Items stay in the Trash for 30 days; once the 30 days are up, the item is deleted.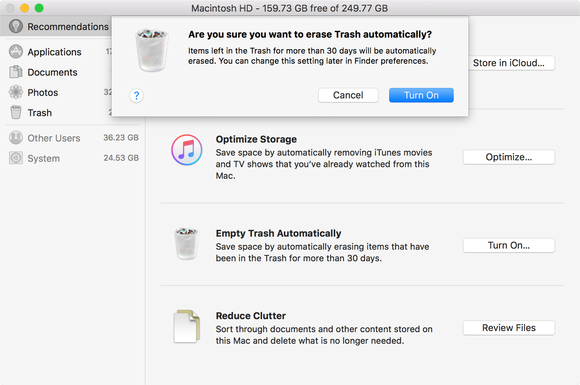 Erase Trash Automatically deletes files that have been in your Trash for 30 days.
Unlike the iOS Photo app's Recently Deleted folder, the files in the Mac's Trash aren't labeled with how many days are remaining before deletion. To get this information, you have to go into the Optimize Storage interface (Apple menu > About This Mac > Storage > Details), and then click on the Trash listing in the left column. You'll see a list of files in the Trash, with a date when the file was last accessed.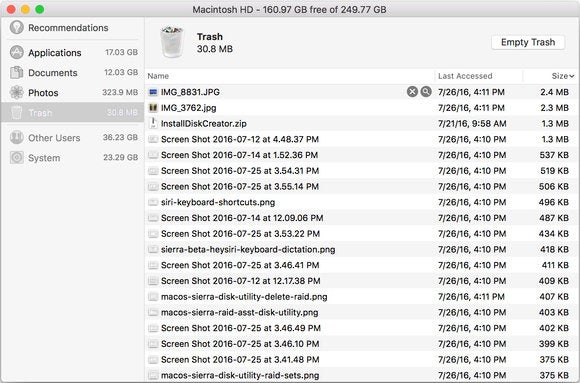 Selecting Trash in the left column provides more details about the files in your Trash.
Previous Page 1 2 3 4 Next Page