How to use Optimized Storage in macOS Sierra
This new feature in Apple's latest Mac operating system promises to free up precious storage space.
Editor's note: This article has been updated to include the Purgable feaure, email attachements in the Optimized Storage section, and verified information regarding iCloud Drive storage usage.
Apple's laptops rely on flash storage, and prices really shoot up if you want more local storage (the actual storage in your computer)—if the model you want offers an upgrade in the first place. The new Optimized Storage feature in macOS Sierra is designed to help free up precious storage space on your Mac.
Optimized Storage requires iCloud, Apple's online service. Apple provides 5GB of free iCloud Drive storage per Apple ID, so you may want more to take full advantage of Optimized Storage. iCloud storage pricing as as follows: 5GB for free; 50GB for $1 per month; 200GB for $3 per month; 1TB for $10 per month. Apple has instructions on how to buy more iCloud storage.
To access the Optimized Storage options in macOS Sierra:
Go to Apple menu > About This Mac.

In the window that appears, click on the Storage tab, then click Manage.

This bar graph has changed a bit from the one in OS X El Capitan, which provided a color-coded key below the bar to tell you how your storage is being allocated. In Sierra, the color-coded key is gone, but if you move your cursor over the colored sections, you can see what each section represents. For example, the light blue section next to the yellow System section in the screenshot above is for Other Users.
If you look closely at the screenshot above, you can see a small white-with-gray-stripes section. This is what Apple calls Purgeable, and it indicates that these are really old files that you can probably archive, save to the cloud, or delete in order to free up storage space.
Below is the main interface for Optimized Storage. First, let's go over the choices in the Recommendations window that appears in the main section. Then let's look at the options in the left column.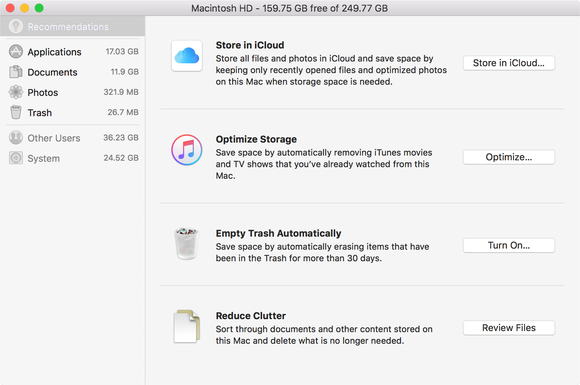 Main window for Optimized Storage.
Option 1: Store in iCloud
This option houses your most recently used files and optimized photos in local storage. Here's why you might want to upgrade iCloud: Your iCloud Drive is used as long-term storage for your original files and full-resolution photos and videos, which can be downloaded to your Mac when you need them.
You are able to fine-tune this option a little. When you click on the Store in iCloud button, you have the choice to save files from the Desktop and Documents folders in iCloud. You can also enable/disable the ability to store photos and videos in iCloud Photo Library.