How to start fresh with a new user account
Remove the cruft of years with a clean install of OS X.


When you have enough backups, weird error messages like this aren't a cause for (much) concern.
Documents, my iTunes library, and the Mail mailboxes copied back from the drag-and-drop copies I made with no problems. The Photos library, however, failed to copy back saying "some data in Photos Library could not be read or written." Ah, yes. Probably all of my ineffable photos. Understandable. They do have a certain je ne sais quoi about them. Well, this is why I made three copies. The copy from the SuperDuper backup worked fine.
After importing the Mailboxes to Mail, I pointed iTunes and Photos to the correct libraries. In iTunes you can change this through Preferences or by holding down Option when starting the application. In Photos the only way to do it is by holding down Option. I noticed both applications have different prompts for selecting a library at startup because the person in charge of consistency at Apple was off that day. I also had to reinstall Java for the Minecraft server, but I left Flash behind (it's long gone from my MacBook Air). I refrained from installing any of the dozens of third-party applications that had been on the machine previously. In its role as a data host, it probably won't need them.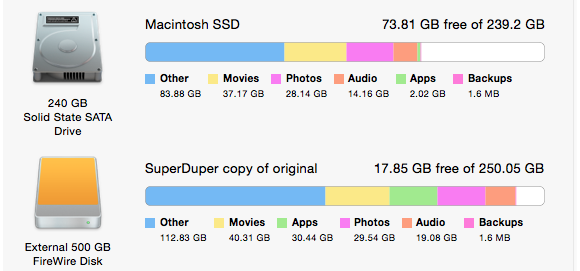 My Mac works better, and I saved a lot of space.
Now I had a fresh install of Yosemite with all of my ancient data but without whatever Bush-era settings were causing problems. I wouldn't say it's exactly like getting a brand-new machine, but it's at least a major improvement. Because I left a host of applications behind, I have far more drive space. Things behave better almost across the board. It's faster, happily lets me screen share, reboots without any trouble, and has its own new name instead of the one I migrated that it didn't want to change.
While this process takes some time, I recommend it if you've used Migration Assistant and OS X upgrades over existing installs for years and have a Mac that's giving you fits.
Previous Page 1 2 3