How to reclaim your privacy in Windows 10, piece by piece
Windows 10 has deep cloud hooks and shares a lot of data with Microsoft in order to create a smart, seamless experience across devices. If you lean more towards privacy, here's how to disable all of it.
Local account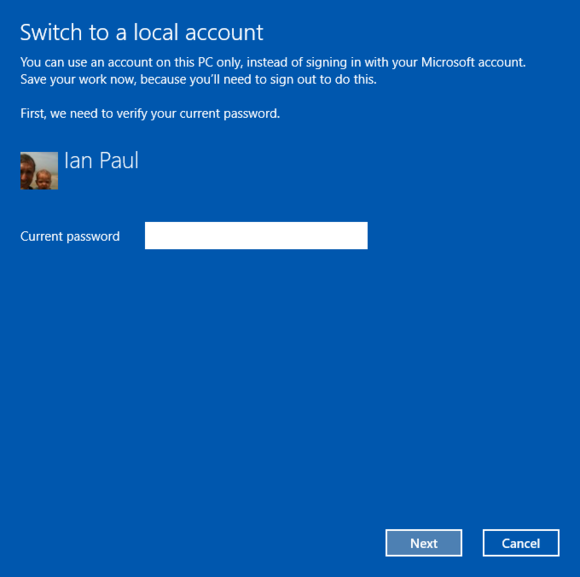 Finally, we've come to the last step: using Windows 10 with a local account. This is basically like putting a Windows 7 user account on your PC with few ties to the cloud.
Navigate to Settings > Accounts > Your account and then select "Sign in with a local account instead." Then just follow the wizard to start using a local account on your PC—one that isn't tied to your Microsoft account.
Using a local account will still let you access some built-in features in Windows 10, such as the Mail app, but you may also lose access to others that require a Microsoft account, such as the Windows Store. You also can't sync your settings to other Windows devices, but if privacy is your focus you probably turned that off in the previous step anyway.
So there you have it: All the privacy steps you need to take to keep Windows 10 firmly planted on the desktop and not the cloud. It's admittedly a lot of work, but the good news is it only takes a few minutes to stay local once you know what you need to do.
But wait, there may be more?
This guide is only meant to turn off the user-facing cloud-connected facets of Windows 10. When this piece was being readied for publication, Ars Techica's Peter Bright reported that there appears to be more "phoning home" going on behind the scenes with Windows 10—even with all the previous privacy steps are completed.
For those who want to dig into the nuts and bolts of Windows 10 and its connection to Microsoft servers, we recommend you turn to Ars Technica's report after you've taken the steps outlined here. Without taking these privacy measures first, dealing with what's left won't do much good.