How to reclaim your privacy in Windows 10, piece by piece
Windows 10 has deep cloud hooks and shares a lot of data with Microsoft in order to create a smart, seamless experience across devices. If you lean more towards privacy, here's how to disable all of it.
For more information check out Microsoft's Edge privacy FAQ.
Control Panel SmartScreen
There are three—count 'em, three—SmartScreen filters in Windows 10. The second one is in the Control Panel and stops you from installing potentially malicious desktop programs on your PC. It first appeared in Windows 8.
To offer this security feature, however, you have to share with Microsoft information about the programs you download and install in anonymized form.
Advanced users may want to just disable this feature as it tends to be a nuisance. I'd strongly advise novice and intermediate users to leave SmartScreen as is, however.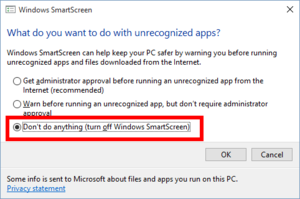 To disable it, right-click the Start menu button and select Control Panel from the context menu. Then, with the category view enabled, navigate to System and Security > Security and Maintenance. Select Change Windows SmartScreen settings from the left-side pane.
In the window that opens, select the radio button next to Don't do anything (turn off Windows SmartScreen).
Windows 10 and the web
Nope, we're still not done. Two more sections to go—although the last one is only for the hardcore privacy types. First we want to deal with some odds and ends.
Let's start by examining the way Windows 10 syncs your personalized settings across devices, including your desktop background, web browser settings, saved passwords, language preferences, ease of access, and so-called "other Windows settings."
The ability to sit down with any Windows 10 device, log in with your Microsoft account, and have all your settings and preferences immediately show up is powerfully handy indeed. But if you'd rather not store all that information in Microsoft's servers, the easiest thing to do here is just turn the "Sync settings" option found under Settings > Accounts > Sync your settings to Off. If you want to take a more fine-grain approach then you can drill down into the synced items under "Individual sync settings."
Finally, let's move on to the SmartScreen Filter. No, not the Edge one. Nope, not the one for downloading apps either. This is the Windows Store version we saw previously under Settings > Privacy > General.
Like its Edge counterpart, SmartScreen Filter checks the URLs of Windows Store apps and makes sure they're not up to anything fishy. It's a security measure that I'd argue is worth turning on. But if you'd rather not use it, go to Settings > Privacy > General and slide the option that says "Turn on SmartScreen Filter to check web content (URLs) that Windows Store apps use" to Off.
Previous Page 1 2 3 4 5 6 Next Page