How to reclaim your privacy in Windows 10, piece by piece
Windows 10 has deep cloud hooks and shares a lot of data with Microsoft in order to create a smart, seamless experience across devices. If you lean more towards privacy, here's how to disable all of it.
In an upcoming section we'll talk about SmartScreen Filter and whether you want to turn that off.
After taking care of the settings under General, what you'll mostly see in the remaining sections are methods for apps to access your data.
Each panel is pretty self-explanatory.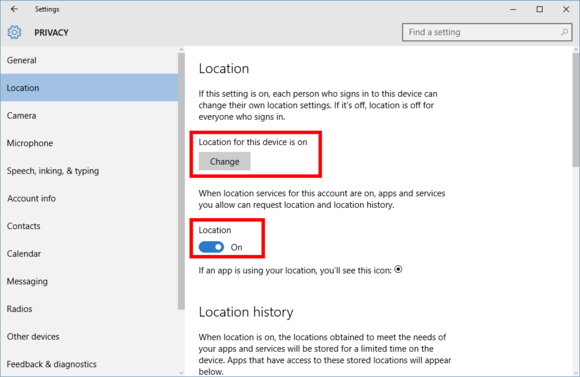 The Location section lets you control whether apps can use your location to deliver services like weather forecasts and local news. Location is a little unusual since it can be set both on a per-device or per-user basis. To turn off location for the whole PC, click the Change button. To turn it off for only the logged-in user, turn the "Location" slider to Off.
You can also control location settings on a per-app basis by scrolling down to "Choose apps that can use your location."
After location is taken care of, the rest of the settings follow a similar format, allowing you to turn off access to things like your camera, microphone, contacts, and calendar on a system-wide or per-app basis. Keep in mind there may be some things you want to keep on. The Mail app isn't much use if it can't access your contacts, for example.
Microsoft Edge
Even if you use Microsoft's fancy new browser, there might be features—like Cortana integration and typing prediction—that you may want to disable if you don't want to send any data back to Microsoft.
Open Edge and click on the menu icon in the far right corner (three horizontal dots) and then go to Settings > View Advanced Settings. Here you have the option to turn off Adobe Flash—stop those Flash cookies!—and then under "Privacy and services" you can decide to switch off a number of settings.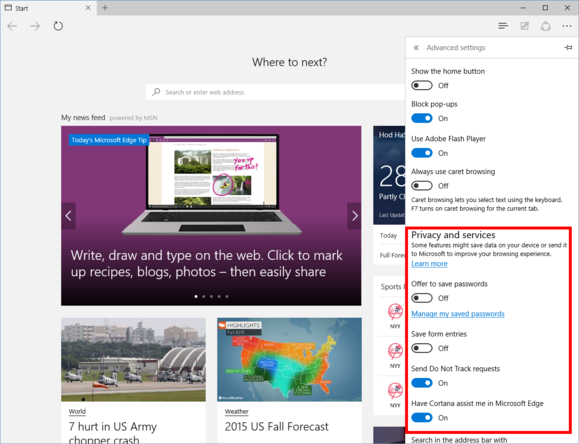 Microsoft Edge's Advanced options.
"Offer to save passwords" and "Save form entries" are both on by default, which you may not want. They are handy features though. Your call!
"Have Cortana assist me in Microsoft Edge" lets Cortana work inside the browser. If you've already switched off Cortana, you definitely don't want this feature on.
"Show search suggestions as I type" uses Microsoft's web-powered prediction service to try and figure out what you're searching for and then fill it in automatically. Chrome and the standard version of Google search offer something similar so you may already appreciate this convenience elsewhere and not realize it.
"Use page prediction to speed up browsing, improve reading, and make my overall experience better" is similar search suggestions in that it sends your browsing history to Microsoft. The company says this feature "uses aggregated browsing history data to predict which pages you're likely to browse to next, and then loads those pages in the background for a faster browsing experience." If you don't like the sound of that, you should turn it off.
"Help protect me from malicious sites and downloads with SmartScreen filter" lets Microsoft block malicious sites and downloads from infecting your PC. This feature lets Microsoft download a list of bad-acting URLs to your PC and then Edge can block those sites. However, with SmartScreen active, whenever you land on a malicious URL you will be redirected to a Microsoft webpage that will get some PC information and the URL of the page you visited. If you ask me, the SmartScreen filter is pretty benign and well worth keeping activated.
Previous Page 1 2 3 4 5 6 Next Page