How to reclaim your privacy in Windows 10, piece by piece
Windows 10 has deep cloud hooks and shares a lot of data with Microsoft in order to create a smart, seamless experience across devices. If you lean more towards privacy, here's how to disable all of it.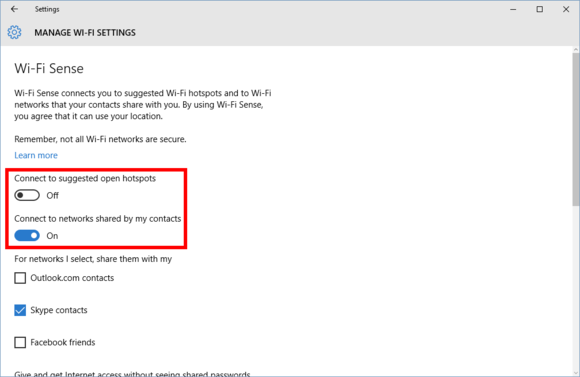 To make sure Wi-Fi Sense is off and stays off, go to Settings > Network & Internet > Wi-Fi > Manage Wi-Fi Settings. Then slide the two options that say "Connect to suggested open hotspots" and "Connect to open networks shared by my contacts" to Off.
Moving on, Windows 10 shares system files and updates downloaded to your PC with others by default. This peer-to-peer networking feature turns you into what you might call an unwitting good Windows citizen by helping others get updates and system files faster. In return, your PC also receives update bits via other people's PCs. It's like using a BitTorrent client, essentially.
If you don't like the sound of that, go to Settings > Update & Security > Windows Update > Advanced options > Choose how updates are delivered. By default, "Updates from more than one place" is enabled and set to both local sources and other PCs on the Internet. You have two additional choices, however: You can distribute updates only to PCs on your local network, or shut off the P2P updates entirely and stick to using Microsoft's servers alone.
If you want to shut everything off, just turn the slider on this screen to Off. If you want to share with PCs on your local network then leave the slider in the On position and select the radio button that says "PCs on my local network."
OneDrive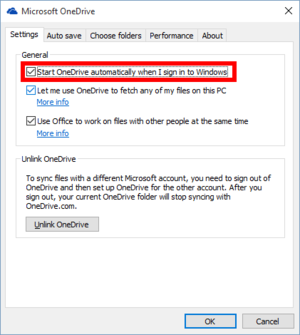 If you're not interested in storing your files on Microsoft's cloud servers, you can turn off OneDrive so it stops bugging you to configure it.
Just click the upward facing arrow in the system tray on the right-hand side of the taskbar. Then right-click the OneDrive icon and select Settings.
In the new window that opens, uncheck "Start OneDrive automatically when I sign in to Windows." You can also uncheck the other two boxes if they're selected as well.
Back to Settings
Woo! Let's take a breather. Feeling good? We've got the most essential parts of our privacy lockdown finished. Ready for some more? It's time to dive into all those other privacy options in the Settings app by going to Settings > Privacy.
This is really the core of Windows 10's privacy controls, but most are not as critical as the other items we've covered. The exception would be the remaining items under Privacy > General. Here you'll want to turn off "Send Microsoft info about how I write to help us improve typing and writing in the future." You may also want to shut off "Let websites provide locally relevant content by accessing my language list."
Previous Page 1 2 3 4 5 6 Next Page