How to reclaim your privacy in Windows 10, piece by piece
Windows 10 has deep cloud hooks and shares a lot of data with Microsoft in order to create a smart, seamless experience across devices. If you lean more towards privacy, here's how to disable all of it.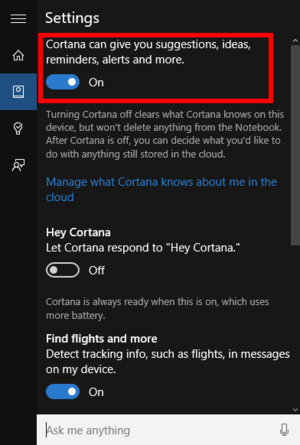 But if you're just not into Cortana, turning it off is very simple. And if you've never used Cortana then don't worry about it! It's already off.
For everyone else, click on the Cortana icon in the taskbar, and then click on the notebook icon on the left-hand side of the pop-up panel. Select Settings from the list of options that appear.
Now, just slide the top option that says "Cortana can give you suggestions, ideas, reminders, alerts, and more" to Off.
Once Cortana is gone, you'll see a new option that says "Search online and include web results." As its title suggests, this includes Bing results when you search for things on your PC. You'll have to decide whether you want that enabled or not.
At this time, it's also a good idea to jump back into the Settings app's privacy section. Open Settings and go to Privacy > Speech, inking, and typing. This is a setting that allows Cortana to gather all kinds of data about you to properly deliver its services. Click the Stop getting to know me button to end that. Note that this will delete collected data stored on your PC, and also turns off dictation functionality.
Once that's done, click on "Go to Bing and manage personal info for all your devices." This is where you can scrub any data that Microsoft has collected about you from the company's servers. Clearing this data will affect the performance of Cortana and other personalization services across your devices and Microsoft services. You can read through this page to understand what you're losing, or just jump to the bottom and click Clear.
Wi-Fi Sense and peer-to-peer
Now let's handle two features of Windows 10 that are innovative, but privacy types may not appreciate.
The first is Wi-Fi Sense. This is turned on by default, but doesn't do anything unless you explicitly use it. Wi-Fi Sense allows you to share access to password-protected Wi-Fi routers. The passwords are shared silently in the background over encrypted connections. People you share network access with never see the actual passwords, and they are not in turn granted sharing permissions for their friends.
The idea is that if your friends or family come over to your house they don't have to ask for your password. Instead, anyone with a Windows 10 device and is a digital friend of yours is automatically logged in. This is arguably more secure than sharing your password with anyone who walks through your door. Once a person knows your Wi-Fi password they can easily share it with others, after all.
Previous Page 1 2 3 4 5 6 Next Page