How to reclaim your privacy in Windows 10, piece by piece
Windows 10 has deep cloud hooks and shares a lot of data with Microsoft in order to create a smart, seamless experience across devices. If you lean more towards privacy, here's how to disable all of it.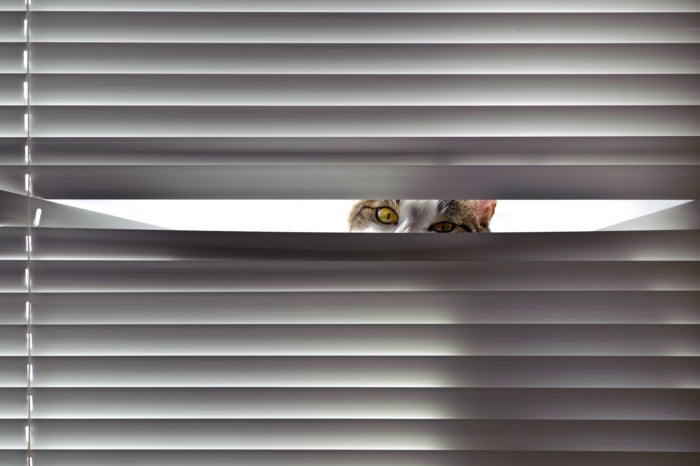 There's no doubt about it: Windows 10 is veritably infused with data-tracking tidbits and hooks into all sorts of Microsoft's online services? Handing over all that data has some tangible benefits, like Windows 10's OneDrive integration and the Bing-powered brains behind the Cortana digital assistant, but not everyone is thrilled with the idea of Big Brother Bill Gates constantly looking over their digital shoulder.
Don't fret. I'm here to show you how to get your PC and its data out of the cloud and back on silicona firma. (Yes, I did just make that up.)
This guide will show you how to disable Windows 10's integration, as well as provide tips on what those features actually do. That way you can decide whether you want to keep any of it active or just shut the door on Microsoft's cloud altogether.
Advertising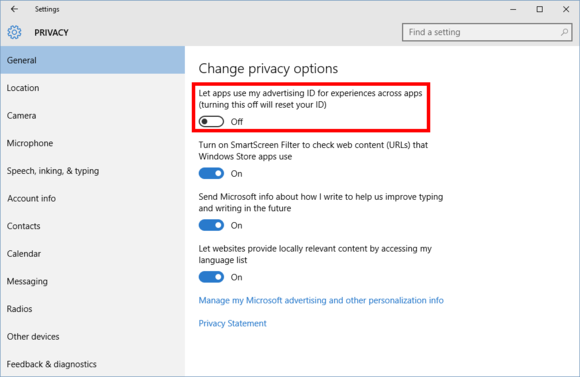 One setting you should consider disabling is all the advertising integration in Windows 10. Some of this was also present in Windows 8, but if you're just learning about it now you might as well turn it off.
Personally, I don't mind seeing ads on websites since that's what pays for most of the free content we see online—including this site. What I do mind is "ad personalization." I don't need ads that are supposedly tailored to my personal tastes thanks to little cookie spies that follow my travels around the web. Generic ads targeted at a site or app's most likely demographic are just fine by me, thanks.
Turning off personalized ads in Windows 10 is a two-step process. First, go to Settings > Privacy > General and slide the option that says "Let apps use my advertising ID for experience across apps (turning this off will reset your ID)" to Off. (We'll come back to the Settings app later to deal with the rest of those privacy settings.)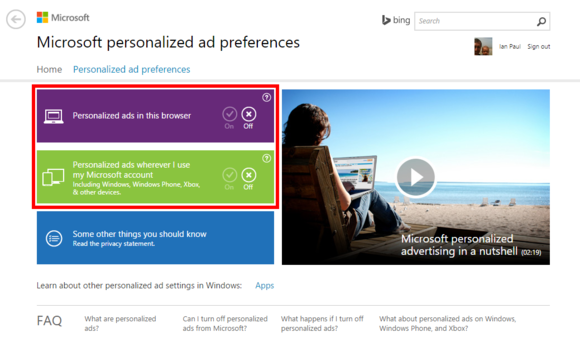 Next, open your web browser of choice and go to choice.microsoft.com/en-us/opt-out. There, select Off for "Personalized ads wherever I use my Microsoft account" and "Personalized ads in this browser."
Tip: If you are using an ad blocker or an extension like the EFF's Privacy Badger, you may have to turn it off for this site before you'll see the option to turn off in-browser ad personalization. The site apparently has to set a cookie for this second option to work.
Cortana
Microsoft's built-in digital assistant is incredibly useful for quickly setting reminders, calendar events, and sending email, among many other things. The information it collects is very similar to what Google does with Google Now, which you may already be using on your Android device.