How to escape that forced Windows 10 upgrade you mistakenly agreed to
Sadly, it's not as simple as stating.
On Monday, hordes of angry Windows users pelted Microsoft with complaints about being lured into upgrading their PCs over the weekend. For months, Microsoft has been urging users running Windows 7 and Windows 8.1 to upgrade to Windows 10 before the free offer expires on July 29. But the series of dialog boxes and other messages that Microsoft has sent users have become increasingly deceptive, burying the opt-out links amid text that appears to commit users to the upgrade.
Normally, closing the dialog box by clicking the red box in the upper righthand corner automatically opted out. Over the weekend, clicking that red box started opting users in to the upgrade.
That not only flies in the face of years of user-interface design, it contradicts Microsoft's own advice for dealing with suspicious dialog boxes. "Never click 'Agree' or 'OK' to close a window that you suspect might be spyware," states Microsoft's page on viruses and malware. "Instead, click the red 'x' in the corner of the window or press Alt + F4 on your keyboard to close a window."
The company was unable to explain how closing a dialog box translated into a consumer's desire to upgrade to Windows 10. Microsoft representatives pointed out, however, that if you do mistakenly trigger the upgrade, you should still have an opportunity to opt out before it begins.
Microsoft described the new procedure on an updated support page, which notes that users will be given "an additional opportunity for cancelling or rescheduling the upgrade."
How it should work
According to Microsoft's support page, Windows 7 and Windows 8.1 users are still going to see those annoying popup windows that urge you to upgrade to Windows 10, where the only opt-out option is buried: "Click here to change upgrade schedule or cancel scheduled upgrade."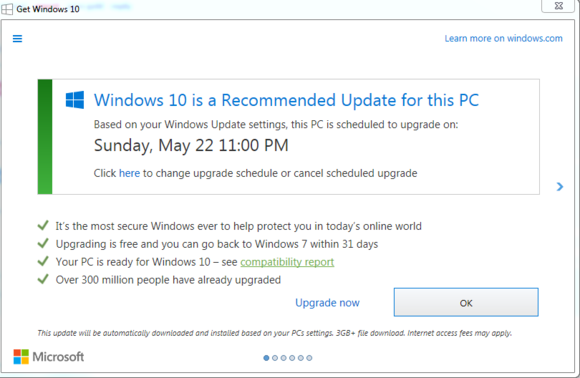 Credit: LumpyMayoBNI via Reddit
If you do click the close button and accidentally trigger the upgrade, you're still not totally committed, Microsoft claims. "Based on customer feedback, in the most recent version of the Get Windows 10 (GWX) app, we confirm the time of your scheduled upgrade and provide you an additional opportunity for cancelling or rescheduling the upgrade," Microsoft says.
Both the confirmation and the additional opportunity appear to be the same thing: a popup that will emerge from the Get Windows 10 (GWX) icon on your taskbar, like so: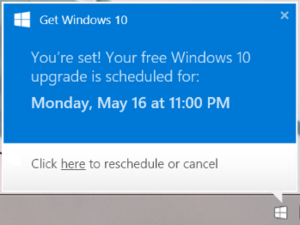 Here's one opportunity to opt out of Windows 10.
Note the link within the popup to reschedule or cancel the upgrade. It's unclear how that long the popup actually hangs around, but it's certainly no good to anyone if it appears in the middle of the night or quickly vanishes.