How to cure Windows 10's worst headaches
These tips and tricks can help you overcome Windows 10's niggling hassles.
Go to Control Panel > Programs > Default Programs > Set your default programs. Let's say Firefox was your browser of choice. You'd scroll through the list of programs until you saw Firefox, then you'd click on it and then choose Set this program as default. Done.
Stop Cortana from sending you to Bing
It's no surprise that Cortana will automatically direct you to Bing for any web searches you conduct with the digital assistant. Cortana is powered by Bing, and using Bing helps Cortana learn more about you, and then better serve you in the future.
But if you'd rather stick with Google, Yahoo, Duck Duck Go, or any other search engine for your Cortana-driven web searches, there's an easy solution: Use Firefox as your default browser.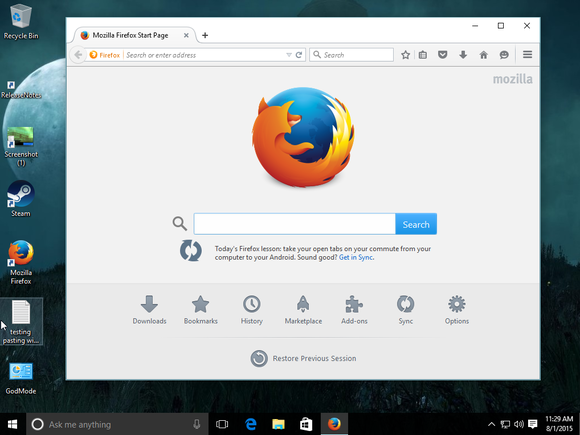 Mozilla added a nifty feature to Firefox for Windows 10 that automatically detects Cortana-initiated searches and sends them to your default search engine in Firefox. So if Google's your default, that's where you'll end up when using the Cortana-Firefox combination.
You can also achieve this on Chrome with the Chrometana extension, but in my tests Firefox was far more efficient at getting you to Google than Chrometana was.
Death to Cortana?
If you ask me, Cortana is a great help. I use Microsoft's personal assistant on my Android phone more often than Google Now simply because of Cortana's deep integration with Windows 10.
But if you don't want Cortana indexing your personal information all the time—which, to be fair is really no different from what Google already does with Google Now—it's easy to disable the assistant. Click Cortana's icon on your taskbar, select the notebook icon in her left-hand options pane, and click Settings. At the top of the next screen, simply set the slider "Cortana can give you suggestions, ideas, reminders, alerts and more" to Off. Boom! Cortana is out of your life.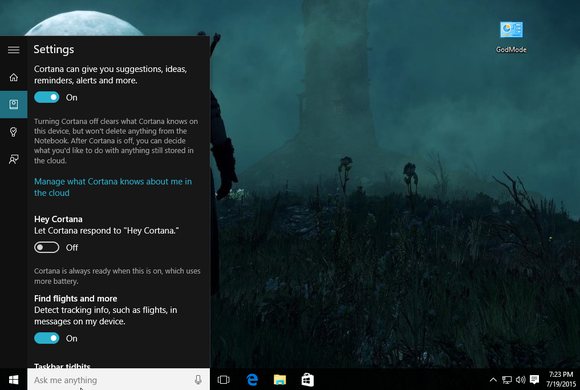 After you turn off Cortana, a new option appears that includes web searches in your results even without Cortana active. If you want to stick to local files when you search for something, you can turn the web searches off too.
For a more detailed look at turning off Cortana, including how to wipe any data Microsoft has saved about you in the cloud, check out our tutorial on killing Cortana.
PDFs in Edge
Windows 8 did a lot of things wrong, but what it did right—if you ask me—is include a stock PDF reader from Microsoft. Unfortunately, it was a Windows Store app, meaning you could only use it in full-screen or that horrible Windows 8 Snap mode, which was never as good as pure desktop Snap. But when the next-best alternative was Adobe's Reader, Microsoft's Reader was the one Windows Store app I learned to live with.
Previous Page 1 2 3 4 Next Page