How to cure Windows 10's worst headaches
These tips and tricks can help you overcome Windows 10's niggling hassles.
Exert control over forced restarts
The anxiety over forced restarts is somewhat overstated, because Windows has for years routinely picked the optimal time to reboot after downloading updates. The issue's more pressing now if you used to download your updates manually, however—which, as we covered, you can't do in Windows 10.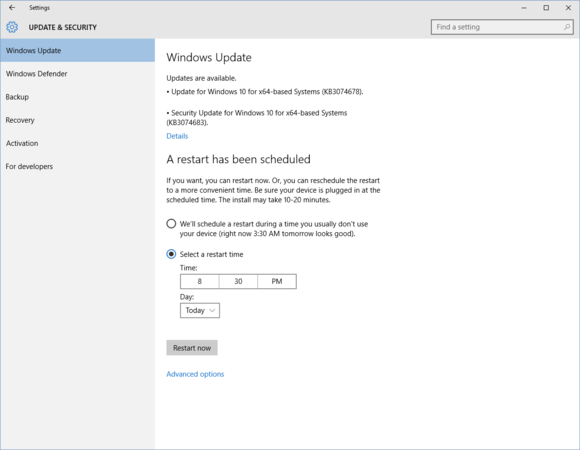 You can schedule reboots to occur at the time of your choosing by heading to Settings > Update & Security > Windows Update > Advanced Options > Choose how updates are installed, and then choosing Notify to schedule restart in the drop-down menu at the top of the page.
Once that's activated, you'll be prompted via a system notification to select a specific restart time every time an update has been downloaded and your PC needs a reboot. Our tutorial on how to schedule Windows 10 update restarts has more detailed information.
Windows P2P
Microsoft came up with a great idea for delivering updates in Windows 10: peer-to-peer networking. By default your Windows 10 PC shares system files with other PCs on your home network and across the big, wide Internet, downloading and distributing updates without relying on Microsoft's servers alone.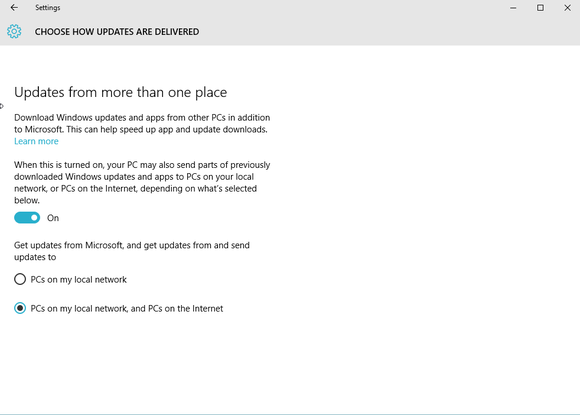 If you don't like the idea of sharing your bandwidth to update strangers' machine, turning off the P2P feature is easy. Go to Settings > Update & Security > Windows Update > Advanced Options > Choose how updates are delivered. There, turn the slider you see to Off to stop the feature entirely, or leave it on and select the PCs on my local network radio button to share updates only with other Windows 10 PCs in your home. (Personally, I like to keep the local network setting active.)
Scrolling the Apps List in the Start Menu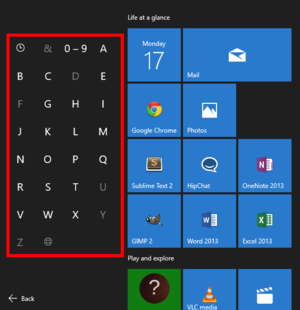 It's great that the Start menu is back in Windows 10, but that "All apps" list organized alphabetically can be a pain to get through if you have tons of programs installed. For those times when you have to scroll down to the "W" section, click on any of the single-letter headings in the All Apps list. The alphabet will appear in the Start menu; simply select the letter section your chosen program resides in to zip there. Word, for example, would be found under W.
Very, very handy.
Where's my default browser?
Did you just choose the Express Settings during installation during your Windows 10 upgrade? If so, then when you logged in the first time you may have discovered your browser was reset to Microsoft Edge. Here's how to reset your default browser if that happened to you.
Previous Page 1 2 3 4 Next Page