Hands-on with Amazon's Mac software store
Amazon's Mac software store offers some benefits, but falls short of Apple's Mac App Store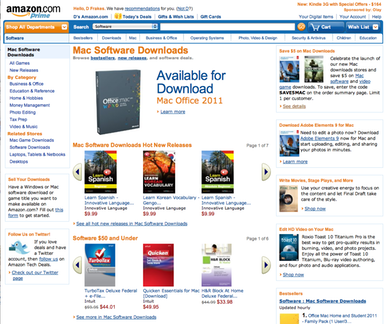 The Mac Software Downloads store looks like most other Amazon pages.
(Interestingly, there aren't yet many examples of applications you won't find in the Mac App Store because of Apple's rules and restrictions. You also won't find any Apple software on Amazon's download store, even though you can buy boxed copies of Apple software in the main Software department.)
To be fair, Amazon's selection beats the Mac App Store's when it comes to "bigger" software titles, as Amazon offers—and heavily promotes—multiple versions of Microsoft Office 2011, along with Adobe Photoshop Elements and Premier Elements 9, Roxio Toast, and Final Draft—all at substantial discounts from the manufacturer's suggested retail price. For example, Office Mac Home and Business 2011 ($280 MSRP) sells for $203, the Home and Student edition ($149 MSRP) sells for $115, and Final Draft 8 ($299 MSRP) sells for $173.
On the games front, Amazon's store currently features only 48 titles, although they include some premium offerings such as Assassin's Creed Brotherhood, Dragon's Age II, and Lego Indiana Jones 2, as well as numerous Sims, Civilization, Call of Duty, and Borderlands versions. At the same time, a number of the available games are old titles, such as several years-old Call of Duty installments, and the remainder includes a meager selection of random casual games and a number of games I'd never heard of.
It's also worth noting that this isn't the first time Amazon has sold downloadable Mac software—last November, I purchased the downloadable version of H&R Block's tax-filing software, and it used a similar download-and-install process. In this respect, the store essentially consolidates all downloadable Mac software in a single "storefront" while adding more titles (granted, some of them being quality software that wasn't previously available for download at Amazon).
Unlike the Mac App Store, which requires you to have Mac OS X 10.6.6 or later for both the store application and any software you purchase using it, Amazon's downloading software requires just OS X 10.5. However, each software title you purchase may have different system requirements, so you'll need to check the requirements for each (viewable on its detail page) before purchasing. While it's nice that some software from Amazon's store will run on pre-Snow Leopard Macs, there's something to be said for consistent system requirements.
Buying and downloading
Just as the Mac App Store makes it as one-click easy to buy Mac software as iTunes makes it to buy media and iOS apps, the software-buying process on Amazon's Mac Software Downloads store is similar to the process you go through to buy MP3s from Amazon. On any software page, click the Buy And Download button; enter your Amazon e-mail address and password when prompted; and then, on the Review & Purchase page, click Complete Purchase.
Previous Page 1 2 3 4 5 6 Next Page