Hands on: New build of Windows 10 Anniversary Update preview tweaks Edge, Wi-Fi Sense
Build 1432 of Microsoft's upcoming OS update makes Edge easier to install and eliminates a controversial feature in Sense.
Four new extensions have been added to the five from the previous preview: two similar (but not identical) ad-blockers, Adblock Plus and AdBlock; Page Analyzer, a developer-focused tool for improving a website's compatibility and performance; and Save to Pocket, which saves articles, videos and other media from the Web, which can then be viewed either online or in the Pocket app for iOS and Android.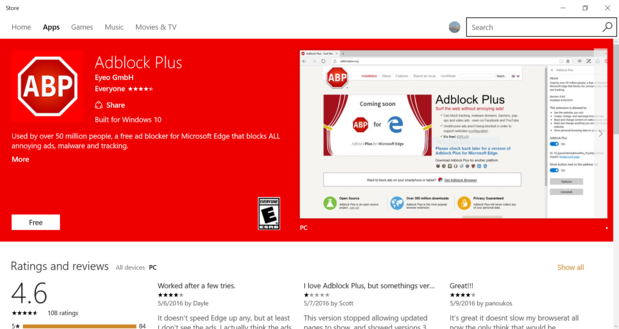 Edge extensions are downloaded and installed from the Windows Store.
They join the existing Microsoft Translator for translating Web pages; OneNote Clipper for adding Web content to OneNote; Mouse Gestures, which lets you use mouse movements for browsing; Pin It Button for pinning Web content to Pinterest; and Reddit Enhancement Suite, which offers tools such as subscribing to comment threads and more easily keeping track of subreddits.
Not all the extensions necessarily work well -- or consistently. For example, the Pocket extension is supposed to work this way: When you're on a Web page and want to save a page, you click the Pocket icon to save the page. You can then go to Pocket on the Web or use an iOS or Android app to see your saved content. In theory, anyway. In practice I found it didn't always work. Sometimes pages were saved; sometimes they weren't. In my experience, it's not really usable yet.
That brings up another similar extension that's not yet usable -- the OneNote Web Clipper. It is designed to let you save content from the Web to the OneNote app. When I tested it in the previous build, it simply didn't work. Every time I tried to clip a Web page I got the message "Sorry, we aren't able to clip this page right now." The same thing happened to me on two machines in this build as well. Maybe it'll start working right for me with the next build.
Say goodbye to Wi-Fi Sense
Also notable in this latest rev is that it spells the end of a controversial feature called Wi-Fi Sense -- or at least, a portion of it. Wi-Fi Sense was designed to automatically connect guests to Wi-Fi networks without their having to typing in passwords. However, people feared that Sense invaded their privacy by sharing all their Wi-Fi passwords with their Outlook and Skype contacts, and with their Facebook friends -- and all of their friends' friends as well.
In truth, it wasn't really a big privacy invader, because no one would see the actual passwords. You had control over whether to use it or not -- and even then, you'd have to take specific actions to enable sharing passwords from each of your Wi-Fi networks.