Hands on: New build of Windows 10 Anniversary Update preview tweaks Edge, Wi-Fi Sense
Build 1432 of Microsoft's upcoming OS update makes Edge easier to install and eliminates a controversial feature in Sense.
The march towards the release of this summer's Windows 10 Anniversary Update continues with the May 10th release of the latest preview: build 1432. It's a minor update focusing primarily on improving the Edge browser's extension installation process and launching four new extensions.
There's also a surprise in this build: The death of the most controversial aspect of Wi-Fi Sense, the feature that some people worried could invade their privacy by sharing their Wi-Fi passwords with their friends and contacts.
Improving Microsoft Edge
When Microsoft launched Windows 10, it dumped Internet Explorer as Windows' default browser in favor of the new Edge browser. The company also promised that Edge would be able to use extensions -- and that will finally happen in the Windows 10 Anniversary Update.
Use of extensions was turned on in the previous preview. But they were very clearly a work in progress.
The biggest problem was how difficult they were to install. For each extension, you had to go through a complicated process: Download a file, run it, click a button to say you wanted to install it, browse to the folder where you downloaded the file and select the downloaded file. And you also had to read a Readme.txt file in Notepad after you downloaded the file. If that cumbersome installation process remained, it's likely few people would bother to use extensions. I certainly wouldn't.
In this newest revision, installing extensions has been simplified. You first click the "... More" menu on the upper-right corner of Edge, then click "Get extensions from the Store." From the page that appears, you click "Download extensions," then click the "Open in Store" button underneath the extension you want to install.
From that point on, the process is just like installing any other app from the Windows Store. You'll be sent to the Microsoft Store page that has details about the extension. Read the details, then click a button if you want to install it. When it's done, you'll get a notice in Edge that it's been installed. Click the "Turn on" notice in Edge, and the extension will be ready to go. (Note: All this is much simpler to do in practice than it sounds.)
From then on when you click the "... More" menu you'll see a list of all of your installed extensions. Right-click any of them for details about it, to rate and review it, to customize it or to uninstall it.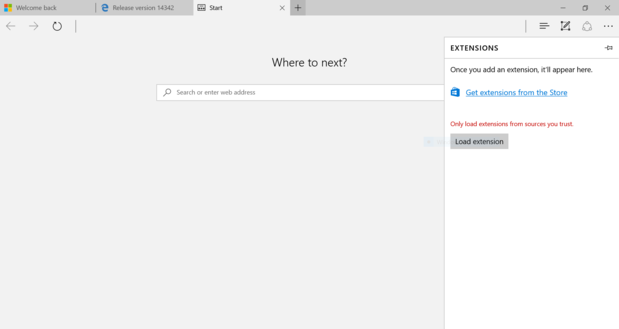 The process of installing extensions for Edge has been made much easier.
All this is a considerable improvement over the way things worked in the previous preview. Installation is neat and clean, on a par with how it's done in Chrome.