Hands on: MyScript Nebo is what Windows Ink should be
From editable text to equations, Nebo offers it all. And for a short time, it's free.
MyScript's Nebo app for Windows 10 PCs does what I hoped Windows 10's Windows Ink would do: take your inked notes and turn them into editable text.
If electronic ink interests you at all, grab the Nebo app from the Windows Store: It's free until the end of August, when the price will increase to $8.99. Nebo's also a universal Windows app, so it will work not only on Windows PCs, but on Windows phones, the Surface Hub, and even the HoloLens.
Nebo's tailor-made for Surface tablets, however, or any two-in-one with a touchscreen and a stylus. Not only does Nebo interpret inked words, but it also can transform inked flowcharts into professional-looking diagrams, and even translate scrawled equations into their digital equivalents.
Windows Ink, by contrast, is currently far more limited. It can only interpret your inked words within the Sticky Notes app, which can take certain notes (a flight number, a website, and a few other examples) and figure out what they are. (Future improvements to the OneNote UWP app will also translate and solve inked equations.)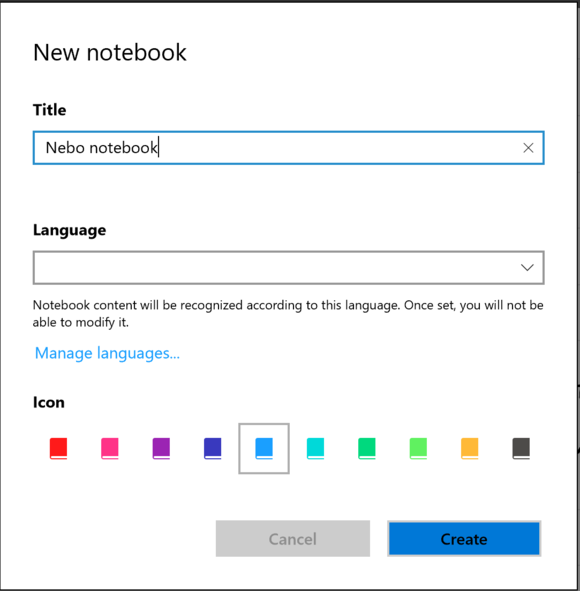 Inked notes are stored in their own "notebook," similar to Microsoft OneNote.
Why this matters: Microsoft's mantra has been productivity. So far, Windows Ink hasn't delivered. Eventually, we imagine, Microsoft will catch up and integrate MyScript-quality inking in Windows 10, and for free. But since it hasn't, that means MyScript can begin charging $8 or so for the privilege. (Could Microsoft merely buy MyScript outright? You have to wonder.)
Nebo makes inked text pretty much a breeze
I downloaded and installed Nebo on my Surface Book, accompanied by a Surface Pen. My handwriting has deteriorated after years of scrawling notes on legal pads and reporter's notebooks, enough that I've moved to audio or video recording for even off-the-cuff interviews. But I've used an older Surface Pro 3 for inked notes before, and one of my phones is a Samsung Galaxy Note 5, which permits inking even when the device is locked. In other words, I do use ink, though my handwriting is pretty lousy.

As you write, Nebo shows you what it "sees" in a small text box above your writing.
Nebo does a pretty bang-up job interpreting chicken scratch, though it also forces you to work within its constraints. For one thing, the "lined" background Nebo provides isn't just for show; the software expects you to write close to the lines, though it does seem to allow substantial leeway. And don't think you can grab a stylus and write at any old angle, either.