Get to know the all-new, much-improved Maps app in iOS 10
In iOS 10, Apple's Maps app does more, from making restaurant reservations to remembering where you left your car.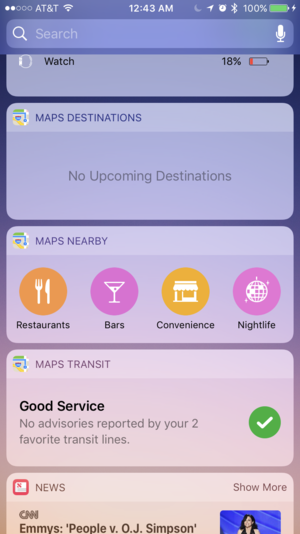 Maps has three widgets you can add to your Today view in iOS 10.
That mark even shows up as a suggested destination. If you have the Maps Destination widget in your Today view, your parked car will be included, so you're never more than a couple swipes and a tap from getting walking directions back to your ride.
Maps has three Today widgets that you can mix and match depending on your needs. Maps Destinations shows upcoming and predicted destinations, like your next calendar appointment or where you left your car. Maps Nearby has buttons that act as shortcuts to searches appropriate for the time and place: coffee in the morning, bars and nightlife after dark. And the Maps Transit widget watches for service alerts on your favorite transit lines, so you know if the trains are delayed again. Tap any of those widgets' controls to quickly launch Maps right to where you want to be—pretty appropriate for a map, isn't it?
What do you think about the Maps app in iOS 10. Are you satisfied with the more minimal design? Do you love the widgets? Did Apple leave out a feature you think it needs to have? Let us know in the comments.
Previous Page 1 2 3 4