Get to know the all-new, much-improved Maps app in iOS 10
In iOS 10, Apple's Maps app does more, from making restaurant reservations to remembering where you left your car.
You can pull up that bottom strip easily with your thumb for more options, all presented as big round buttons it's easy to recognize and hit, even when holding the phone in one hand—the menu doesn't extend to the upper half of the screen, so everything is within reach. The options are Gas Stations, Restaurants, Coffee, Overview, Details, and Audio. Overview pulls up to a map of your entire route, with your current location clearly marked. Details is a turn-by-turn list, for when you're in the passenger seat and the driver wants to hear about the next few turns. Audio is where you'll select the volume for the voice cues (or turn them off), as well as if you want podcasts and audiobooks to pause when the navigation voice butts in.
As I said earlier, requesting gas, coffee, or a restaurant while you're navigating is much improved—in my tests since the beta period, it's faithfully directed me to locations on (or directly off of) my current route of travel. Those routes themselves are pretty solid, too. I haven't gotten bad directions yet, with testing in the Bay Area and Sacramento, Seattle and points north, Chicago, Milwaukee, and Cincinnati. (It's been a busy summer.) Walking and transit directions work as well as they did in iOS 9—aside from the app's new look, those features haven't changed much.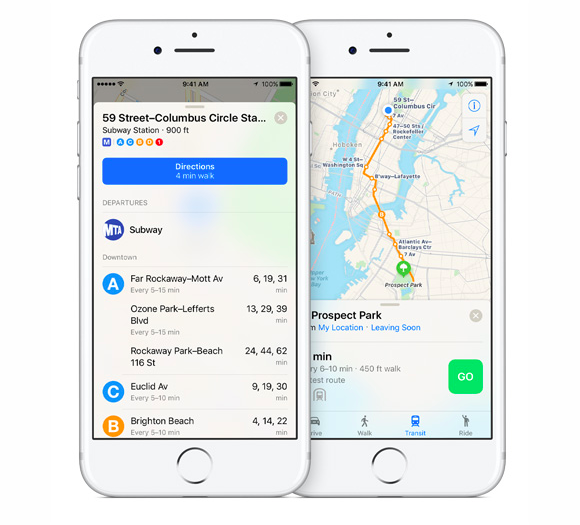 Apple
Transit directions are reliable in my experience, and I love how the icons in the Maps app match the signs used by the actual transit authorities.
The Maps app itself is also solid, although I did experience more than a few crashes earlier in the beta period, especially when paired with an Apple Watch running a beta of watchOS 3. The biggest problems were my iPhone running hot while navigating, the navigation crashing (as in, the Maps app stayed open but I was no longer getting directions), or the directions not stopping when I reached my destination, which had a nasty side effect of draining the battery if I didn't notice and press End for a while after arriving. But as of a week or two before iOS 10 went live, the app's stability improved by leaps and bounds, and today, I don't have any of those problems.
Dude, where's my car?
In fact, Maps even holds a few hidden delights. One is that Maps can automatically remember where you left your car, if you connect to your car stereo with Bluetooth or CarPlay. Then when you disconnect your phone—somewhere that isn't your home address—your iPhone will remember that location as a likely place that you left your car. So unless you valet it every time (in which case you only need to remember how to find the valet stand!), you can pop open the map and see your car marked. (If you hate this, you can turn it off in Settings > Maps.)
Previous Page 1 2 3 4 Next Page