Get to know the all-new, much-improved Maps app in iOS 10
In iOS 10, Apple's Maps app does more, from making restaurant reservations to remembering where you left your car.
If you haven't been using Apple's Maps app, the all-new version in iOS 10 is worth another look. It's prettier than ever, smarter about finding stops for gas and coffee along your actual route, and thanks to machine learning iOS 10 it can do things like remind you when it's time to leave for your next appointment, and then remember where you parked your car.
I use Maps on a daily basis, after relying on Waze or Google Maps for years. A good mapping app is pretty important to me, since I moved from one side of San Francisco Bay to the other about three years ago, and I'm still learning the best ways way around, finding my new haunts, and scouting out those scenic routes where the view can make your jaw drop. I switched over to Maps permanently when I got my Apple Watch, because I love how the watch can tap me on the wrist before I need to make each turn—kind of a "hey, pay attention!" reminder when I might be engrossed in a philosophical debate with my 4-year-old. So while Apple's got my mindshare for now, I admit I felt a little dread at WWDC, when Apple announced the Maps app in iOS 10 would be completely redone. Wasn't that kind of a disaster last time?
I'm happy to report the road forward is much smoother in iOS 10. The new Maps even fixes my biggest quibble with the last version. As I complained in this video, testing Maps with CarPlay in iOS 9.3, I hated when I'd search for a stop—usually gas or coffee—during a drive, only to be offered results I'd already passed. That's a lot better in iOS 10, with the new app making it easier to find things that are actually on the way, and even letting you know how many minutes the stop is likely to add to your drive.
Intelligence and integrations
When you open Maps, you're even presented with a couple of predictive suggestions, like how long it would take you to drive to work, or to get home. The search box is on top of the list, and places you've searched for or navigated to recently are underneath, so you can just flick that list up with your thumb to see more. Your Favorites are down at the bottom, and can include transit stops as well as addresses, businesses, and points of interest.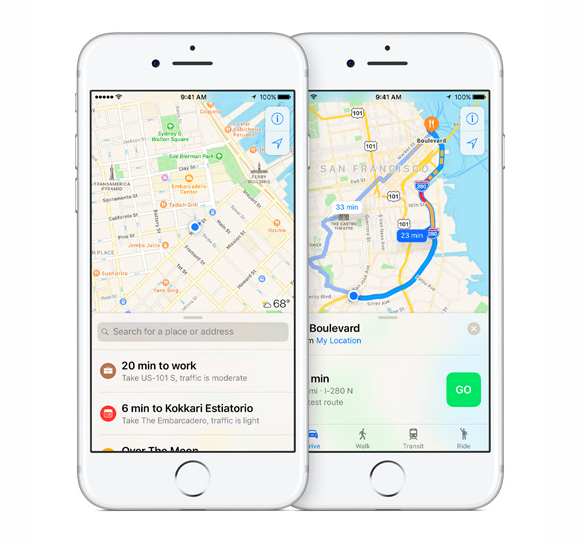 Apple
Everything's been streamlined in iOS 10, from the very beginning when you enter a destination and choose what kind of directions you want.
Maps does a great job of keeping controls out of the way until you need them. The Favorites list, for example, might seem a little tucked away. But if the locations inside it really are your favorites, you probably access them often enough to keep them in the recents list. When you tap on a place for more info, there's a big blue bar to tap for directions, and it defaults to whatever kind of directions you wanted last time (Drive, Walk, and Transit). But on the next screen when you're presented with the possible routes to take, you'll see tabs that let you switch to another method of transportation.