Asus Chromebook C202S review: You won't find a better-built bargain
Drop it, knock it around, spill on it. The C202S can take it without taking too much from your wallet.
The Asus C202S includes an HDMI port and SD Card slot.
The thing that bugs me most about low-cost Chromebooks is the crummy keyboards you get on too many of them. The hard-plastic keys and harsh travels make me feel like I'm typing on rocks. To its immense credit, the C202S offers a keyboard with a surprisingly gentle, 2mm travel. The fonts on the keys are even a little bigger than usual so it's easier to see the letters. I pounded away happily on this keyboard, and that means a lot at this price point.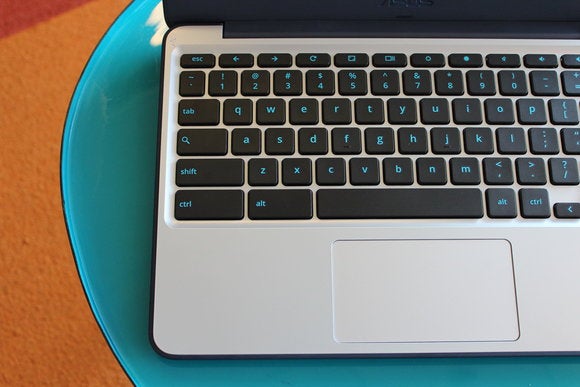 A comfortable keyboard with nice, big letters and numerals on the keys. This is almost unprecedented among low-cost Chromebooks, but the Asus C202S delivers.
The 11.6-inch display has the usual 1366x768 resolution, which is appropriate for the size. The viewing angles are just average—you start to lose the image as you view more from the side—but Asus gave the display an anti-glare coating to help with visibility.
Performance: It keeps up with mainstream apps
The C202S uses Intel's Celeron N3060 chip, a dual-core SoC running at 1.6GHz, with 4GB of LPDDR3 RAM and integrated Intel HD Graphics 400. This setup will make it through mainstream web apps and a streamed movie—which is what most people with Chromebooks do—but this isn't the Chromebook for bleeding-edge users tinkering with web gaming or other graphics-intensive tasks.
We compared the C202S with other recent N3060-based models and the Acer Chromebook 14, whose N3160 chip is of the same Braswell generation, but with four cores instead of two. We also included the Dell Chromebook 13, which has a Celeron 3205U instead of an SoC, so you can see how a higher-end (and higher-priced) Chromebook compares.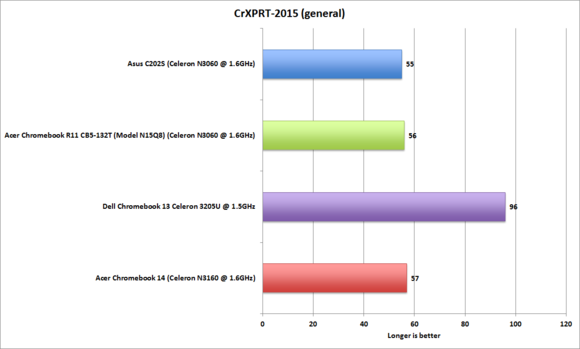 The C202S (blue bar in the above chart) started off well with the Cr-XPRT performance test, which measures Chromebook performance in basic productivity tasks as well as more demanding activities, such as watching movies or playing games. It's in the pack with the other two low-end Chromebooks. Not surprisingly, though, the Dell's more powerful chip smokes everyone.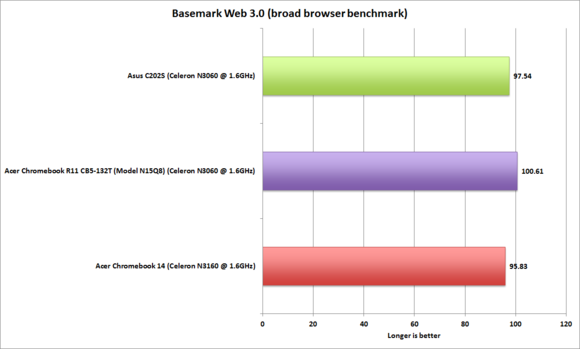 Basemark Web 3.0 recently replaced Browsermark 2.1 as Basemark's comprehensive browser benchmark. The tests cover web-based technologies including WebGL 1.0.2 and WebGL 2.0 real-time graphics, as well as JavaScript. Again, the C202S (green bar above) ran neck-and-neck with the other three Chromebooks with an N3060 chip. (Note: We couldn't include the Dell in the Basemark chart, as it was tested with Basemark's predecessor, Browsermark.)