Asus Chromebook C202S review: You won't find a better-built bargain
Drop it, knock it around, spill on it. The C202S can take it without taking too much from your wallet.
The Asus C202S is a good budget Chromebook for the same reasons it's a good Chromebook for schools. Built to endure being shared among students, schlepped around classrooms, and shoved into backpacks, it's more than ready to handle incidental wear and tear in your home environment. Most Chromebooks in the $200 price range don't feel up to much challenge, honestly, but you'd actually have to work a bit to rattle the C202S. The durable design also makes it nicer to use than most bargain models.
Built to be bumped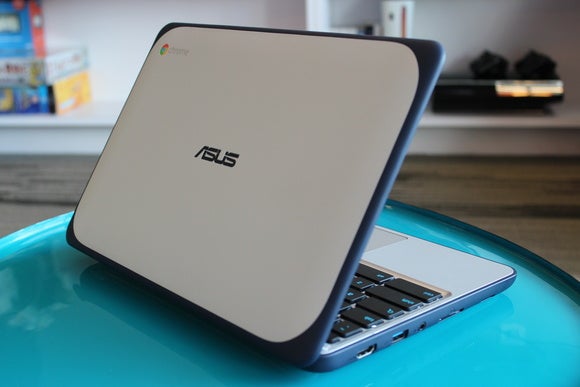 The Asus C202S is protected by rubber bumpers lining the lid and the lower half of the device.
You can't miss how tough the C202S is, if only because you can't miss the wide, blue rubber bumper going all the way around the lid. Rubber also lines the lower half's margin. According to Asus, the C202S can handle a flat drop (onto its bottom panel) of up to 120 centimeters (a little over 47 inches), and a side drop of up to 80 centimeters (a little over 31 inches).
The bottom has a thick rubber foot that runs all the way across the back. While it provides solid balance and comfort, it's also intended to be used as a handle of sorts to make the C202S easier to tote without dropping it.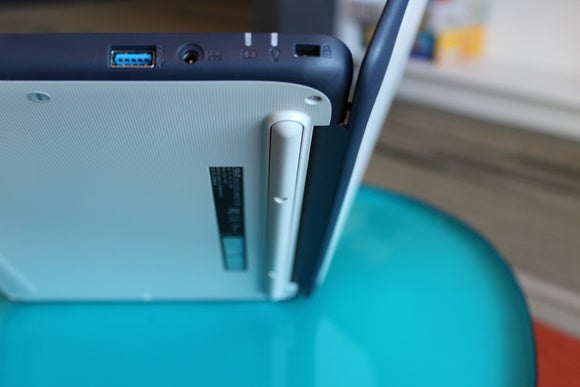 The thick rubber foot pulls double duty as an impromptu handle to make the Asus C202S easier to carry.
The C202S is water-resistant, too. Asus says it can handle a small spill of up to 2.23 ounces because the innards are protected by a solid, mylar-lined plate built underneath the keyboard. We didn't test the company's claim, but we poured water on a few similarly protected Chromebooks last year and they survived just fine. Most of them, however, cost more than the Asus C202S.
The C202S is also designed to be repaired fairly easily. I mean fairly, because 12 screws stand between you and removing the bottom, plus more screws await inside to remove the thermal module, the motherboard, and the battery in order to get to other components. Dismantling the C202S therefore isn't something you'd do just for kicks, but few laptops these days can be opened at all, so this is a distinctive feature.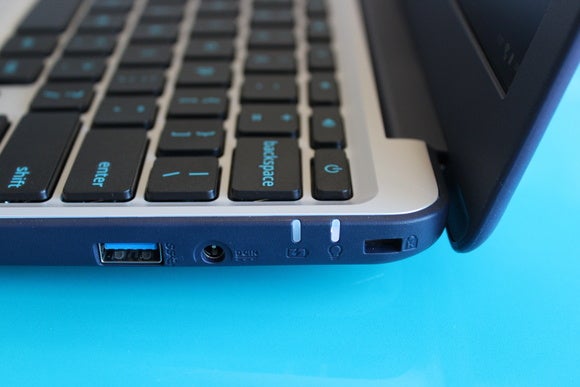 Both USB-A ports on the Asus C202S are Super Speed, with 5Gbps data transfer.
Connectivity includes two USB-A ports (one on each side), both USB 3.0 Super Speed, meaning you get a peppy data transfer rate of 5Gbps. The left side also offers an HDMI port, SD card slot, and audio jack, while the right side adds a lock port and the AC jack. The ports are reinforced to help them survive constant plugging and replugging, as well as the tripping and cord-yanking truth of classroom life. For wireless you get Intel's 7265 dual-band 802.11ac Wi-Fi adapter, plus Bluetooth 4.2 with WiDi support (for connecting and streaming wirelessly to compatible displays). Stereo speakers deliver tinny, but acceptable sound.