Apple reveals macOS Sierra with Siri, Apple Pay, and other new features
In addition to a changed name, macOS Sierra boasts several new features, which Apple showcased during its WWDC keynote.
Don't call it OS X anymore, and if you do, Siri will probably correct you. Apple unveiled on Monday at its 2016 Worldwide Developers Conference that the Mac operating system is now called macOS, and the next version will feature the Siri vocal interface and digital assistant.
Siri is the headline feature in what will be macOS Sierra. As had been rumored, a new Siri icon will be accessible in the Dock; clicking on it will launch a Siri window that iOS users will be familiar with. During the macOS Siri demo at WWDC, Apple VP Craig Federighi used Siri to find files and followed up the search to refine the results. Federighi also showed how Siri results can be integrated into other Apple apps, such as Reminders.
While Federighi announced a third-party iOS developer kit for Siri, no mention of third-party Mac app access for Siri was mentioned.
OS X becomes macOS
Federighi kicked off the Mac section of the keynote by revealing the name change, explaining how the "OS X" moniker seems dated next to the names of Apple's other operating systems (iOS, watchOS, and tvOS).
The "macOS" name harkens back to the pre-OS X days when Apple called its operating system Mac OS. "Mac OS" was used up to version 9; then Apple switched to OS X with version 10 in 2001. Obviously, Apple changed the Mac OS name with the modern formatting convention that uses lowercase for the specific platform and no space between the platform name and "OS."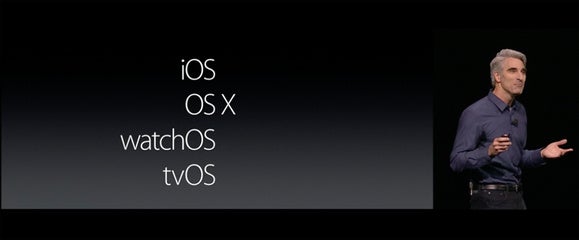 7 other new features
macOS Sierra has several new features and Apple showcased eight of them during the WWDC keynote. In addition to Siri, Apple highlighted these seven other features.
Apple Pay When you're shopping online, you can use Apple Pay to pay for your purchases using an Apple Pay button. To authenticate the transaction you're performing on your Mac, you'll need to use an iPhone or Apple Watch.
Auto Unlock Sick of typing in your password to unlock your Mac? If you have an Apple Watch, you can use Auto Unlock. When you want to unlock your Mac, Auto Unlock senses your Apple Watch and instantly grants you access to your Mac.
iCloud Drive Desktop access Mac users often use the Desktop as a place to save files. If you use multiple Macs, macOS Sierra will allow iCloud Drive access to those desktop files on a specific Mac. This feature will also allow iOS devices to access those Desktop files.
Optimized Storage Apple, for the most part, has phased out hard drives in its Macs in favor of flash storage. But in order to keep costs down, flash storage capacities aren't as spacious. With Optimized Storage, older files are kept in the cloud to free up local storage space. The feature also gets rid of files that you will never use again. During the keynote, Federighi showed a Mac with 20GB of free storage space; after running Optimized Storage, the amount of free space expanded to 150GB.