4 overblown Windows 10 worries
Does Microsoft's new OS really endanger your privacy and security? We examine the four top concerns about Windows 10 -- and what you can do about them.
To a certain extent, you can customize the kind of telemetry information Windows 10 gathers about you -- but not completely. Go to Settings / Privacy / Feedback & diagnostics. Under the heading "Diagnostic and usage data" there's a setting titled "Send your device data to Microsoft." By default, it's set to Full, which sends the most information possible. You can change that to Basic (sends the least information) and Enhanced (sends the second-most information).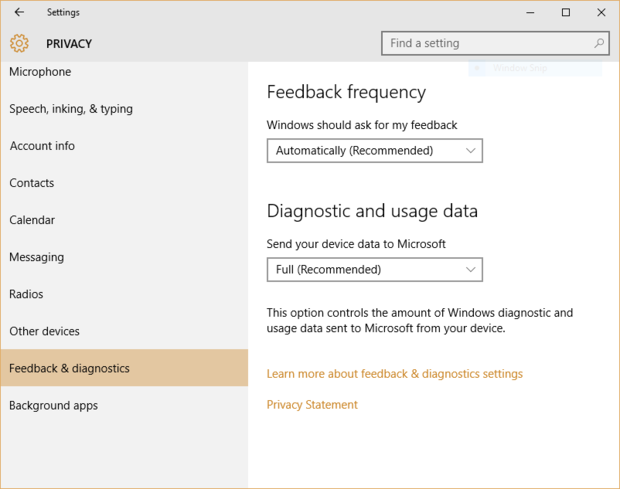 You can customize the kind of telemetry information that Microsoft gathers.
According to a Microsoft FAQ, Basic gathers only data that is "vital to the operation of Windows." The FAQ warns, however, "Some apps and features may not work correctly or at all" with this setting.
The Enhanced setting gathers more information, including "how frequently or how long you use certain features or apps, and which apps you use most often." Full, meanwhile, collects "such [things] as system files or memory snapshots, which may unintentionally include parts of a document you were working on when a problem occurred."
But in the end, you're going to be sending some information to Microsoft -- whereas, as Computerworld reporter Gregg Keizer points out, you could turn it off completely in Windows 7 and Windows 8.1.
The upshot? If you want to use Windows 10, Microsoft will gather information about you -- as do many (or most) other online services. But in my opinion, it falls short of being a "privacy nightmare."
Bottom line
There's been a lot of fear, uncertainty and doubt raised over various aspects of Windows 10. Some of it has a basis in truth -- for example, Windows 10 does collect a lot of information about you by default, and it's true that Windows 10 Home users are forced to accept all updates unless they resort to workarounds. And Microsoft could do a much better job at explaining Windows 10's defaults and how to change them during the installation process.
But other concerns have been overblown -- in many cases you can change the defaults to make the operating system work more to your liking. And other concerns -- for example, that Wi-Fi Sense automatically shares your Wi-Fi passwords with your friends and friends of friends -- are myths.