4 overblown Windows 10 worries
Does Microsoft's new OS really endanger your privacy and security? We examine the four top concerns about Windows 10 -- and what you can do about them.
Let's face it -- every time you use a computer, you're living with tradeoffs between your privacy and getting things done more easily.
It's true that the privacy defaults in Windows 10 tilt things away from protecting your privacy. But if you don't like it, there's plenty you can do about it by changing your privacy settings.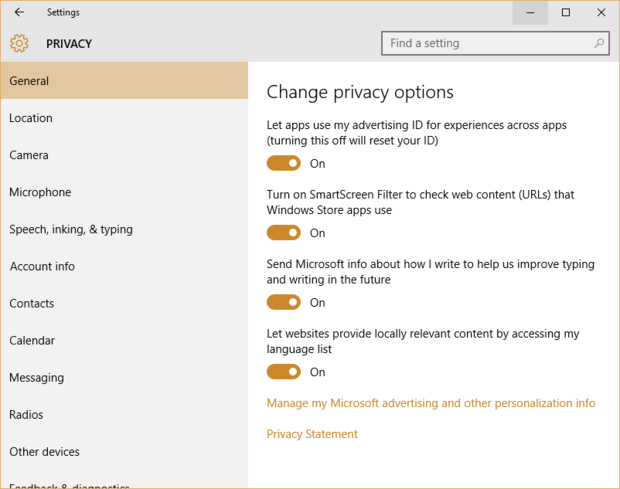 The privacy settings offers a long list of topics that lets you customize the way Windows 10 handles privacy for Cortana, your camera, and more.
Start by selecting Settings / Privacy. Once there, there is a menu on the left that offers a long list of topics within which you can customize your privacy settings to a significant degree for Cortana, your camera, calendar and more.
In fact, it would take a very long article to cover every setting, so I'll offer advice about the most important ones.
Advertising ID: Start off in the General topic. This is where you can tell Microsoft to not use your advertising ID across apps and the Internet. There are also other settings you can change, such as telling Windows 10 not to send your typed input to Microsoft. If you're particularly worried about privacy, you might want to switch off all the settings here (except for the SmartScreen Filter, which protects you from scams and phishing attacks).
Location tracking: In the Location section, you can turn off location tracking completely and delete your location history. (Note: If you turn off location tracking, Cortana won't work.)
However, if you find location tracking useful for some applications -- say, for your weather app -- keep it turned on and scroll down to "Choose apps that can use your location" to select which apps should be allowed to use your location and which shouldn't.
Cortana: If you're wary of all the information Cortana gathers about you, you can turn it off. Click the Windows 10 search box on the bottom left of the screen; you'll see a vertical row of five icons. Click the Notebook icon (it's the third icon from the top) and then select Settings.
From here, you can turn off Cortana completely or select which features to use and which not. For example, one of the things that Cortana does by default is check your email messages for information about your flights and then send you reminders. You can turn that off from here.
Telemetry:There are some privacy settings that you can't turn off completely. Behind the scenes, Windows 10 gathers information about how you use the operating system, such as which apps you use frequently. It also takes memory snapshots and sends them to Microsoft. Microsoft claims all this information, which it calls telemetry, is used to improve Windows 10 and related hardware and services.
Previous Page 1 2 3 4 5 6 7 Next Page