4 overblown Windows 10 worries
Does Microsoft's new OS really endanger your privacy and security? We examine the four top concerns about Windows 10 -- and what you can do about them.
Note that Microsoft did not deliver the Windows 10 upgrade this way -- it relied on traditional servers. Microsoft told Computerworld that "Downloads of the Windows 10 upgrade are happening through Windows Update."
The peer-to-peer feature is turned on by default in Windows 10, but you can turn it off entirely, or tweak it so that you get updates this way but don't deliver them to others.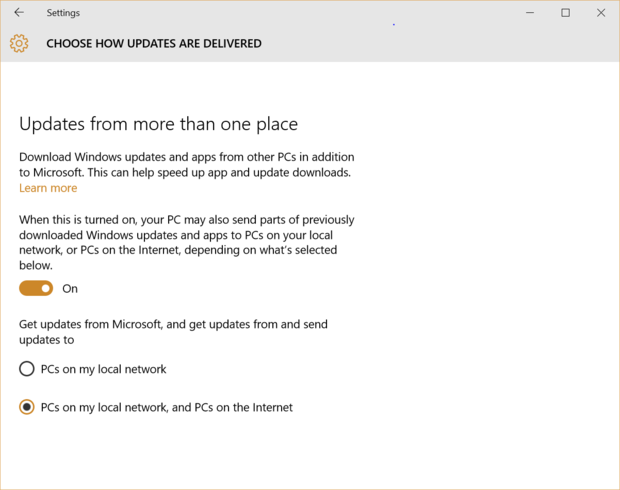 You can turn off peer-to-peer updates, or customize the way they work.
To turn off the peer-to-per feature entirely, go to Settings / Update & security / Windows Update / Advanced options / Choose how updates are delivered, and move the slider from On to Off. When you do this, you'll only get updates from Microsoft servers, and your PC won't be used to deliver updates to other PCs.
However, you can actually use peer-to-peer reduce your Internet bandwidth. How? By restricting it to just your network -- the Windows 10 update would then be downloaded to only one computer on your network, and the rest of your computers would update from that first PC rather than external servers, reducing your overall Internet use.
To get updates this way (but not deliver them to others), leave the setting at On, and select "PCs on my local network." When you do that, your PC won't be used to send updates to PCs not on your network, but will deliver them to other PCs on your network.
Concern: Windows 10 is a privacy nightmare.
Search for "Windows 10 privacy nightmare" on Google and you'll get more than 8.4 million results, including a screed on Slate in which the author warns, "Windows 10 is currently a privacy morass in need of reform." He's not alone in thinking that. One writer even suggests that Windows 10 violates HIPAA (the federal Health Insurance Portability and Accountability Act) privacy regulations.
Most of the fears have to do with Windows 10's default privacy settings, created during the installation if you use the express install option. With those default options, Windows 10 will send your calendar and contact details to Microsoft; assign you an advertising ID that can track you on the Internet and, when using Windows apps, track your location; and send your keystrokes and voice input to Microsoft. All in all, it sounds like a privacy-lover's worst nightmare.
Truth: You can protect yourself by changing the defaults.
Windows 10 isn't alone in tracking your location, sending keystrokes back to a server, assigning you advertising IDs and performing similar tasks. These things are fairly commonplace by now -- in, for example, mobile operating systems, Google search and a variety of other services. Siri, for example, tracks your location and preferences in the same way that Windows 10's Cortana does, in order to deliver customized services such as offering info on the local weather and nearby restaurants.
Previous Page 1 2 3 4 5 6 7 Next Page