4 overblown Windows 10 worries
Does Microsoft's new OS really endanger your privacy and security? We examine the four top concerns about Windows 10 -- and what you can do about them.
You can also uninstall an update that's already been installed if it's causing you problems. Select Settings / Update & security / Advanced Options / View your update history / Uninstall updates. Then select any update and click Uninstall.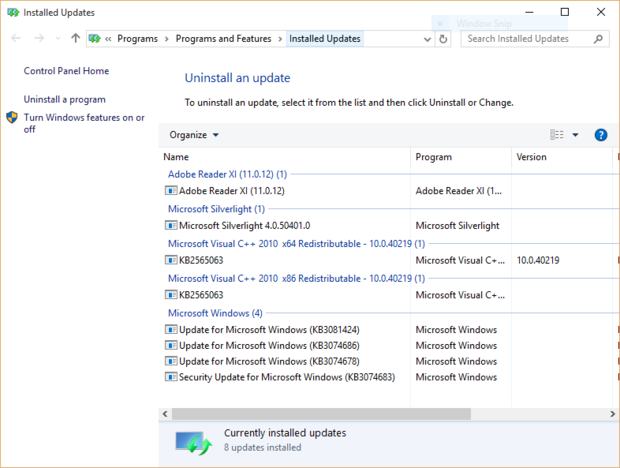 Windows 10 lets you uninstall any problematic updates.
In fact, Microsoft has a free tool that will check if any updates you've installed are causing any problems, and will then uninstall it and hide it from being installed again. (The tool is at the bottom of this page.)
And let's face it -- automatically installing security updates on people's systems is a good thing. Not only will it keep them safer, but it also helps create a kind of herd immunity effect. Protecting someone's PC isn't just good for that person, but it means that PC won't be able to be used by hackers to launch attacks.
As for automatic installs of non-security updates -- yes, they can be really inconvenient, especially if the update causes an issue with your system. But remember -- you can uninstall them.
Concern: Microsoft's use of peer-to-peer networking for Windows updates will slow down your network connection.
With Windows 10, Microsoft uses a trick borrowed from peer-to-peer networking apps like BitTorrent in order to distribute updates more efficiently. Rather than have everyone get updates from a central server, the updates are also delivered from PC to PC. This feature set Reddit visitors ablaze with fears that their network performance would suffer.
Truth: Windows 10 does use peer-to-peer networking to distribute updates. But it can be turned off -- and a tweak could actually decrease your bandwidth use.
As Microsoft points out in its FAQ titled Windows Update Delivery Optimization, when you get a Windows update or download an app from the Windows Store, the entire file -- or parts of it -- might be delivered from another PC rather than from a Microsoft server. And your computer, in turn, might send updates and apps to other systems.
Keep in mind, though, that only your upload bandwidth will be affected by delivering updates to other PCs, not your download bandwidth.
And Microsoft is far from the first company to use this technology. Both BitTorrent and the media-streaming service Popcorn Time (which now exists in the form of a popular fork both use it. Until a year ago, the Spotify music-streaming service used peer-to-peer technology for streaming music to its desktop application. And Netflix is believed to be exploring using peer-to-peer technology for streaming video.
Previous Page 1 2 3 4 5 6 7 Next Page