4 overblown Windows 10 worries
Does Microsoft's new OS really endanger your privacy and security? We examine the four top concerns about Windows 10 -- and what you can do about them.
The concern here is that, unlike previous versions of Windows, Windows 10 doesn't give you a choice about when (or which) Windows updates will be installed on your computer. What Microsoft sends to you will be installed, whether you like it or not, and as a result, an update could break something on your PC -- for example, a driver for a peripheral like a printer.
This fear actually started with Microsoft. When you agree to install to Windows 10, part of the EULA licensing agreement reads, "Updates. The software periodically checks for system and app updates, and downloads and installs them for you. You may obtain updates only from Microsoft or authorized sources, and Microsoft may need to update your system to provide you with those updates. By accepting this agreement, you agree to receive these types of automatic updates without any additional notice."
Truth: Automatically accepting Windows 10 updates isn't a bad thing. And there are plenty of workarounds.
It's true that if you have the Windows 10 Home edition, you don't have a choice about installing Windows 10 updates -- Microsoft sends them and your system installs them.
But if you have Windows 10 Pro, you do have a choice -- you can defer updates for up to several months. Start by selecting Settings / Update & security / Windows Update / Advanced options. Underneath "Choose how updates are installed" check the box next to "Defer upgrades." Any updates will be deferred for several months, after which time they'll be installed by Windows 10. The advantage to this approach is that, if there is a problematic update, it will be fixed by the time it is installed on your system. Exceptions are security updates, which will be installed without delay.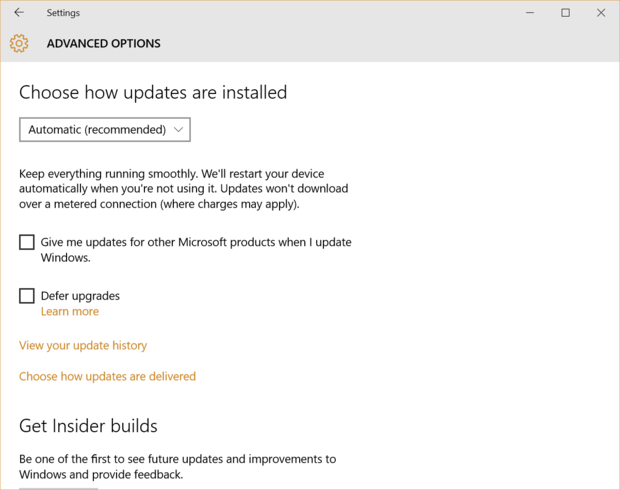 Windows 10 Pro users can defer operating system updates for several months.
And auto-updates don't apply at all to businesses running Windows 10 Enterprise.
And while Windows 10 Home users won't see the "Defer upgrades" box, there is a sneaky workaround they can use to defer updates as well.
If you tell Windows 10 that you're using a metered connection -- one in which you're charged for your bandwidth --- you'll be able to defer updates, even if you have Windows 10 Home. (This only works if you're on a Wi-Fi network -- it won't work if you're connected via an Ethernet cable.) Select Settings / Network & Internet / Advanced options, and turn "Metered connection" from Off to On.
Once you do that, Windows Update will tell you when an update is available, but won't download and install it. You'll be able to do that at your leisure, by clicking the Download button underneath the update. Again, this does not include security updates.
Previous Page 1 2 3 4 5 6 7 Next Page