4 overblown Windows 10 worries
Does Microsoft's new OS really endanger your privacy and security? We examine the four top concerns about Windows 10 -- and what you can do about them.
Also, keep in mind that thousands of people are already doing this without any security issues. If you use a router from Comcast, for example, it automatically creates an extension of your network that any Comcast subscriber can use if they're just passing by. Whenever you see an Xfinity W-Fi hot spot, it's someone who has a Comcast router that is sharing their network bandwidth.
Wi-Fi Sense is turned on by default in Windows 10. But even when it's turned on, it doesn't automatically share your Wi-Fi passwords with anyone's system. You have to take another step to allow access, and you have control over which networks to share -- and with which groups of contacts to share them. And remember, even then, the passwords are encrypted -- and your guest users are blocked from getting to local resources such as computer files or other devices connected to your network.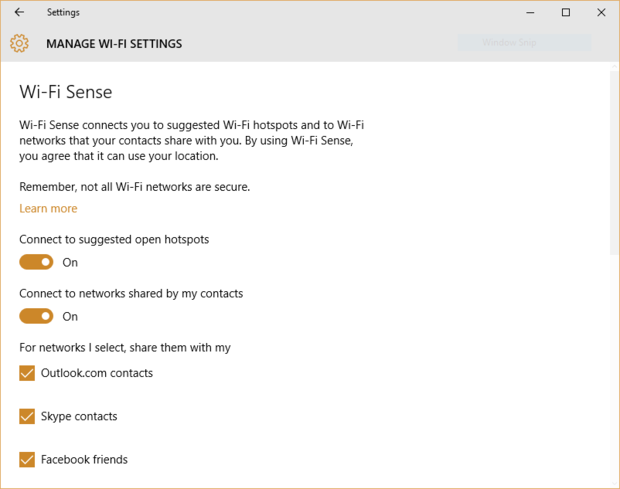 You can easily manage all your Wi-Fi Sense settings.
To allow someone to access a network, you go to Settings / Network & Internet / Wi-Fi / Manage Wi-Fi Settings. At the top of the page are the settings that control whether and how to use Wi-Fi Sense; all are turned on by default.
Scroll down, and you'll see "Manage known networks." Listed beneath are all the networks to which you've connected. It isn't until you click the network, then select Share that the network gets shared -- and even then, not necessarily with all of your contacts.
A section labeled "For networks I select, share them with my" offers three checkboxes: Outlook.com contacts, Skype contacts and Facebook friends. Uncheck the boxes for the kinds of contacts you don't want to share access with. If you want to turn Wi-Fi Sense off completely, uncheck the boxes next to all of them.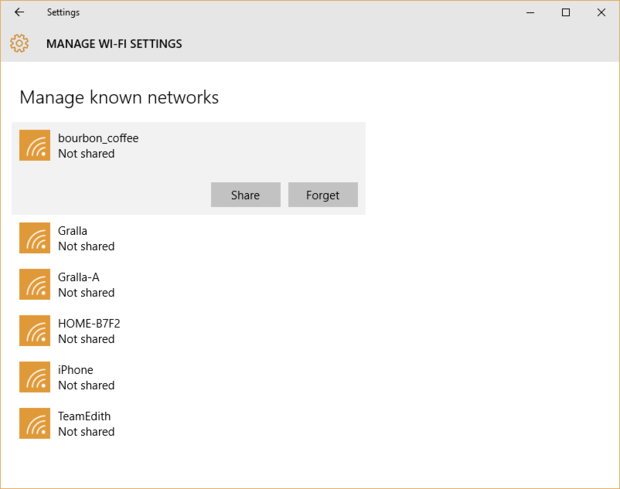 You can choose whether to share your network's broadband or not.
Unfortunately, there's no granularity to the way you can share network access to your contacts -- in other words, you can only share with all your friends in, say, Facebook; you can't pick out individuals. It's essentially all or nothing.
I still find this useful, because my Facebook contacts are a different part of my life than my Skype contacts. However, if you've got lots of people in your contacts lists, only a few of whom you'd want to share your network with, this setup won't work for you.
Note: Corporate networks that use the 802.1X Wi-Fi security standard can't be shared using Wi-Fi Sense.
For more information about Wi-Fi Sense, check out Microsoft's FAQ.
Concern: Windows 10 updates are automatically installed on your computer -- and that's a bad thing.
Previous Page 1 2 3 4 5 6 7 Next Page