The essential guide to powerline ethernet adapters
Powerline Ethernet adapters that use your home's electrical wiring are great supplements to Wi-Fi networks. We sort through the standards, HomePlug and G.hn, and review 12 models.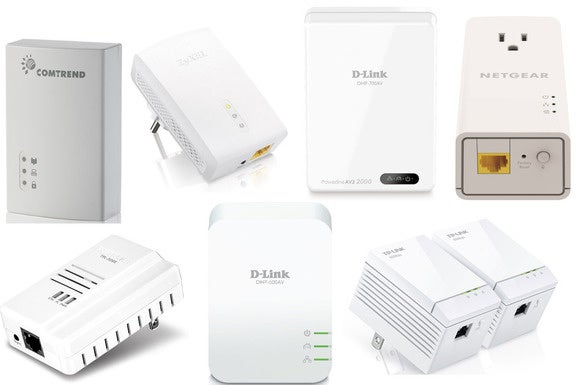 Editor's note: This roundup of powerline ethernet adapters is continually updated. It was originally published on January 15, 2015, and this is the third update. Since the number of products in the story was becoming unwieldy, we've removed the older models and kept only the latest HomePlug AV2 MIMO and ITU G.hn adapters. If you want to see the story as it was originally published in January 2015, click here.
This latest iteration adds an entirely new review of the ZyXEL PLA5456KIT to our earlier reviews of the D-Link DHP-701AV, Extollo LANsocket 1500, TP-Link TL-PA8030P KIT, and the Trendnet TPL-420E2K. You'll also find the one ITU G.hn adapter we've reviewed to date: the Comtrend PG-9172.
The lay of the land
The powerline networking landscape continues its rapid evolution with a couple of new groundbreaking products based on the state-of-the-art HomePlug AV2 MIMO standard. The ZyXEL PLA5456 has achieved parity with the previous fastest adapter we've tested—the Extollo LANSocket 1500—while the TP-Link TL-PA8030P remains the only kit we've tested to boast three ethernet ports (ZyXEL's kit has two).
The new wave of products also highlights two tiers of HomePlug AV2 MIMO performance: The three adapters we've tested that are based on Broadcom chips—D-Link's DHP-701AV, Extollo's LANSocket 1500, and ZyXel's PLA5456—are significantly faster than the competition that's based on Qualcomm chips (these being the only two companies shipping AV2 MIMO chips in the U.S. at this writing). We have no way of evaluating claims by the two companies as to why Broadcom-based adapters perform faster.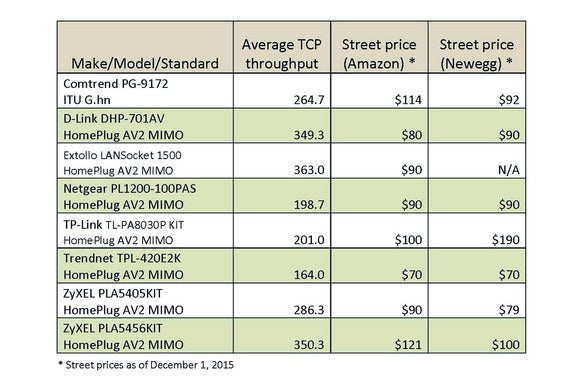 Benchmarks and prices of the top performers.
In my previous testing I looked at a couple of other HomePlug AV2 MIMO products as well as a Comtrend kit that was the first retail product based on a competing, less familiar powerline standard called G.hn.
HomePlug and G.hn both define a method for carrying data—including audio and video—over standard electrical cables. This enables you to use existing wires in your home as a data network. HomePlug is based on the IEEE 1901 standard, while G.hn is based on the competing ITU G.9960 standard.
In addition to using power lines to form a network, G.hn also supports using telephone wiring and coaxial cables. The IEEE also has a standard to facilitate hybrid networks, IEEE 1905.1. It's backed primarily by the HomePlug Alliance, which runs a 1905.1 certification program for powerline, Wi-Fi, and coax-based products under the trade name nVoy. Because 1905.1 operates using software, an amended version, 1905.1a, adds support for other network technologies, including G.hn. But no one is operating a certification program for 1905.1a at this point, and as a practical matter, HomePlug and G.hn products simply don't work together.