Speedy networking makes Apple's new AirPort Time Capsule a good buy
The new Time Capsule is nice and fast. It'd be even faster if Apple fixed a problem in OS X that's hindering the router's file-transfer performance.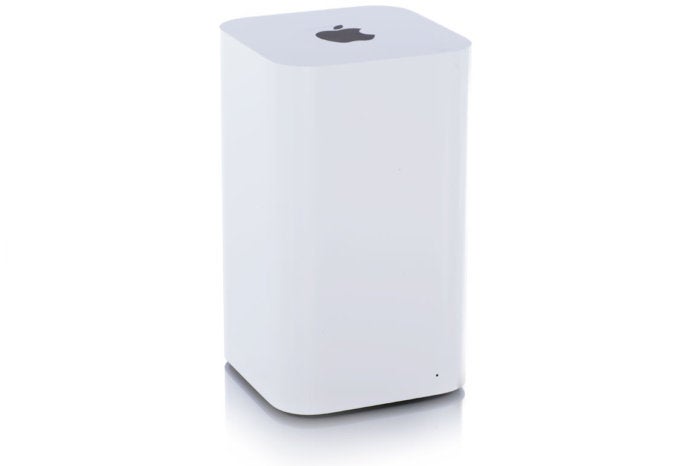 Apple is ahead of the curve when it comes to adopting the IEEE 802.11ac wireless networking standard. While 802.11ac routers are not new, Apple's latest AirPort Time Capsule is the first to include an integrated hard drive. Apple is also one of the first manufacturers to include an 802.11ac client adapter as standard equipment in its computer lineup.
Performance
When I used AccessAgility's WiFiPerf benchmarking tool to measure the 802.11ac Time Capsule, with a 2013 MacBook Air as the client, I measured a very respectable TCP throughput rate of 451.9 mbps at close range (with the router and client in the same room, separated by about nine feet). That's more than twice as fast as the older 802.11n Time Capsule's 218.7 mbps (operating a network on the 5GHz frequency band).
What's more, the 802.11ac Time Capsule delivered TCP throughput in excess of 100 mbps in two other rooms inside my house where the 5GHz 802.11n Time Capsule wasn't able to maintain any connection to the MacBook Air.
Unfortunately, something is crimping Apple's 802.11ac network performance. As I reported in this earlier story, Apple's gear is radically slower when tasked with transferring real-world files over the network (WiFiPerf is a synthetic benchmark for measuring TCP throughput).
When I copied a 10GB collection of files and folders (videos, music files, word documents, spreadsheets, and the like) from the hard drive in an iMac hardwired to the Time Capsule to the SSD in a wirelessly networked MacBook Air (which was again about nine feet from the router), I measured throughput of just 84.8 mbps, meaning the transfer required more than 16 minutes to complete (each test was performed three times and the results were then averaged). Reading those files from the MacBook Air and writing them to the iMac happened at a slightly faster pace: 132.1 mbps (nearly 10.5 minutes).
The Time Capsule's network performance improved only a little when copying a single 10GB file from the iMac to the MacBook Air, to 134 mbps (averaging 10 minutes, 13 seconds). Copying that same file back to the MacBook Air: 163.5 mbps (about 8.5 minutes). Obviously, none of those figures are anywhere close to WiFiPerf's result of more than 450 mbps.
Based on my experience testing 802.11ac routers with Windows machines, I expected the 802.11ac Time Capsule to be considerably faster than the 802.11n model. And that's certainly what my WiFiPerf results indicate. But these real-world file transfers defy that expectation.
The current theory, first published at Anandtech, is that OS X is not properly scaling TCP window size during file transfers to allow the MacBook Air's 802.11ac client adapter to achieve peak performance. While Apple has not confirmed this to be the problem, the company is aware of the performance discrepancy and is reportedly working on a solution.