Now there are two mesh-network routers to think about: Luma prepares to duke it out with Eero
Hot on the heels of Eero's announcement that it was delaying the shipment of its mesh-network router, which is designed to blanket a home with Wi-Fi coverage using multiple access points, another startup enters the market with—you guessed it—a mesh-network router designed to blanket a home with Wi-Fi coverage using multiple access points.
"You can establish global policies for everyone, or you can manage down to the user level," Judge said. "You can also render someone invisible; so that they're not subject to any of the content filters." Another unique feature: Judge says the router "can make sure your IoT devices are talking only to the servers that they should be. We're creating a white list to prevent unauthorized dialing out."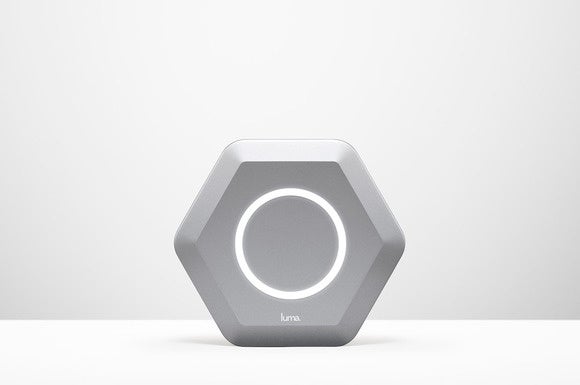 Between Google's OnHub, the Eero, and now the Luma, it seems no one wants to build routers that look like routers anymore. Credit: Luma
The Luma otherwise sounds very similar to the Eero. "We help homeowners build an intelligent Wi-Fi system," Judge said. "We call it 'surround Wi-Fi,' because you deploy multiple access points to provide coverage through the entire home. In the enterprise, you'd have multiple access points, so you can buy either a Luma singly or as a three-pack. Our mobile software will help you determine the best placement and how many access points you need."
The Luma will be a dual-band device operating on the 2.4- and 5GHz frequency bands simultaneously, and it will support multi-user MIMO. The hexagonal-shaped enclosure, which is designed to stand vertically, will be outfitted with two gigabit ethernet ports and one USB 2.0 port that can be used for sharing network-attached storage or a printer. It will be available in white, silver, gold, or orange finishes. "We wanted to design something that people wouldn't be afraid to have out in their home décor," Judge said.
The Luma will be priced similarly to the Eero: $199 each or $499 for a three-pack. And as Eero did while it was accepting preorders, Luma will be available at a substantial discount for the next 30 days: $99 each or $249 for three. You can order one at www.lumahome.com or on Amazon.com as part of the company's Launchpad program.