Linksys aims to take the hassle out of home networking with new flagship router, other gear
Also, there's finally support for DD-WRT firmware on Linksys' WRT1900AC, WRT1200AC, and WRT1900ACS routers.
Nearly every new 802.11ac router supports MU-MIMO these days, but relatively few client devices do, and that can force the router to fall back to using the problematic SU-MIMO. To solve that problem, Linksys will soon bring out its WUSB6100M, a dual-band, MU-MIMO, USB 2.0 Wi-Fi adapter that can deliver throughput of up to 433Mbps to 802.11ac clients on the 5GHz band and up to 150Mbps to 802.11n clients on the 2.4GHz band (because bigger numbers sounds better, Linksys adds 433 to 150 and rounds up to 600). Here again, the new adapter won't be available until the spring, when it will sell for $60.
A new flagship router
The Linksys EA9500 will be the company's new flagship Wi-Fi router. It's a tri-band model supporting MU-MIMO and beamforming, and promising combined throughput of up to 5.3Gbps (1000Mbps on its 2.4GHz, 802.11n network, and 2166Mbps on each of its independent 5GHz, 802.11ac networks. (Fuzzy math again: Linksys rounds up 5332 to 5400 so it can describe this as an AC5400 device.)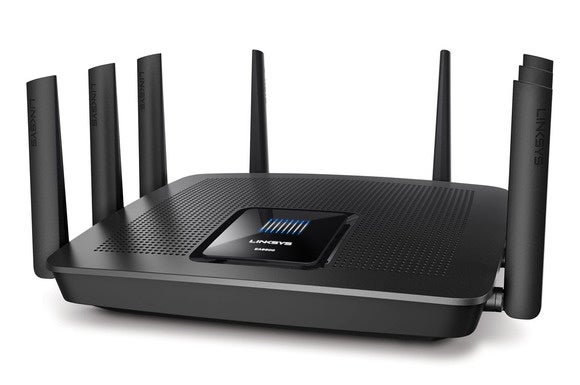 We've found tri-band routers to be more effective than MU-MIMO models, but the new Linksys EA9500 will support both features. Credit: Linksys
The EA9500 will be powered by a 1.4GHz dual-core processor and it will have an 8-port gigabit switch. Linksys's press materials don't mention the number or type of USB ports the new router will have, or whether or not it will support e-SATA storage devices. Linksys will be looking to fetch $400 for this router when it becomes available—this summer.
And a new mainstream router with something extra
If the EA9500 is too rich for your blood, you might find the EA7500 more to your liking. It's a dual-band model that Linksys says will deliver up to 1300Mbps of throughput on its 5GHz 802.11ac network and up to 600Mbps on its 2.4GHz 802.11n network. It's a Wave 2 router, like its pricier stablemate, which means it supports MU-MIMO, but it will include a more common 4-port gigabit switch. It will also be outfitted with one USB 3.0 port and one USB 2.0 port, so you'll be able share both storage and a printer on your network. It will go for $200 when it goes on sale in February.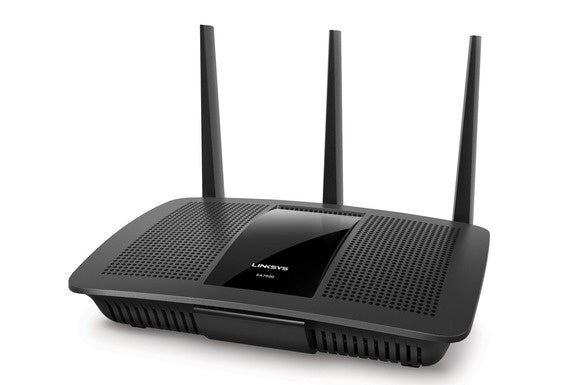 It looks as though AC1900 is becoming the sweet spot in Wi-Fi routers. The Linksys EA7500 will fetch $200 when it becomes available in February. Credit: Linksys
DD-WRT support on the latest WRT routers
Linksys also announced official support for DD-WRT open-source alternative firmware on its WRT1900AC, WRT1200AC, and WRT1900ACS routers.
"With Linksys and Marvel working closely to improve the upstream support for the Marvel CPUs and Wi-Fi radios, DD-WRT can now provide stable and robust support for the modern WRT series of routers in our alternate firmware platform, building on what was started many years back with the first WRT," said Peter Steinhäuser, Co-CEO, DD-WRT.