Interop 2015: SDN reality-check, apps aplenty
The 29th annual networking conference is in Las Vegas this week.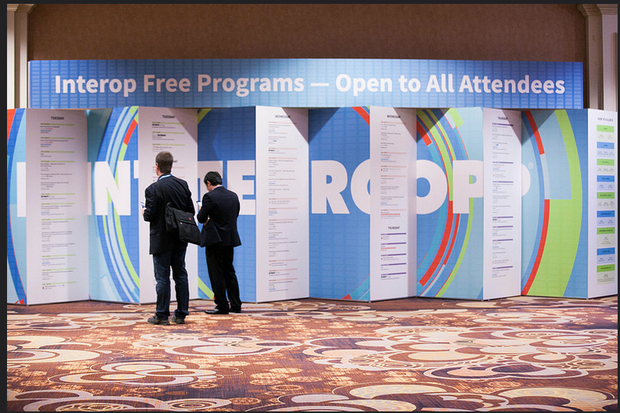 This week's Interop agenda includes more than 125 sessions covering topics as wide ranging as a status update on the latest trends in software defined networking (SDN) to tips for new application development and delivery methods, infrastructure management, and the pervasive issues of security and mobile workers.
Held at the Mandalay Bay Convention Center, Introp is expected to draw 12,000 attendees and 300 exhibitors, which is 125 more than last year.
Interop has graduated beyond its roots as a networking show, but analysts attending the 29th edition of the conference say networking is still as important as ever. For the past two years the hottest topic in networking has been SDN. But Wikibon analyst Stu Miniman says many users are still trying to separate the hype about SDN from its impact.
"Last year there was a feeling that a lot of SDN was Still Does Nothing,'" says Miniman, who is presenting a talk about hyperconvergence.
Miniman is particularly interested to see how the hardware side of SDN plays out. In theory, decoupling the network management from the underlying hardware could allow users to buy commodity, white-labeled networking gear. But Miniman says most SDN users are not looking to take that route. There's still a demand for reliable networking gear to underpin a new SDN rollout.
The software side of SDN seems to be more mature, he notes, with competing offerings from Cisco with its Application Centric Infrastructure (ACI), to VMware's NSX software. Companies such as HP, Dell and many startups are looking to stake their claim in this market. On Thursday during morning keynotes executives from HP, Dell and VMware will discuss the "first steps" of rolling out an SDN deployment.
All about the app
Bernard Golden, vice president of strategy at ActiveState Software, an Interop speaker and a columnist at CIO Magazine, says another big trend at Interop is a focus on higher-level IT functions, particularly applications.
Apps have their own conference track, along with nine other broad categories of technology. Golden says some IT organizations are struggling with allowing employees to be productive and use the apps they want and need, while doing so in a secure manner. Figuring out where to run your apps and how to create new ones as fast as possible will be explored at this year's show too.
The cloud continues to emerge as an increasingly attractive destination for both building new apps and hosting existing ones. Interop attendees will hear from Google Senior Vice President of Technical Infrastructure Urs Holzle on Wednesday. Holzle oversees Google's Cloud Platform, which along with those from Amazon Web Services and Microsoft Azure is considered one of the big three cloud providers.