How to choose the best Wi-Fi replacement for your Apple AirPort routers
Amid uncertainty about Apple's plans for its Wi-Fi routers, what other options work best for Mac, iPhone, and iPad owners?
Updating the firmware is a minor challenge. In preparing this article, I discovered new firmware was available. While it's a simple download, the release noted mention in passing that your configuration will be wiped out unless you back it up and restore it. This should have been in giant flashing letters at the top. I caught this note, downloaded the current configuration, installed the firmware, and restored my settings. (We reviewed the Archer C8, which is more expensive and I don't find is as good a fit for an AirPort replacement as the C7.)
The Netgear R6400 ($110) is a little more expensive, but apparently somewhat simpler to configure, which can be a plus. (If you purchase this router, make sure and immediately apply a security update from Netgear if it's not installed in the version you received.)
Another option that we haven't tested yet, and which is ostensibly powerful enough to cover a large home all by its lonesome if placed in just the right spot, is the Netgear Nighthawk X10 AD7200. It's a whopping $450, but supports the very latest 802.11ac standards that allow better throughput with mobile devices. It has a Plex Media Server built in for streaming media from an attached drive, and offer super high-speed connections for NAS devices. It's also futureproofed with 802.11ad, a very short-range, multi-Gbps in-room wireless standard coming to TV sets and other media devices.
Mesh is the new hotness
The alternative to the AirPort-style routers, both cheap and expensive, is a mesh networking system. Mesh networks don't require configuration on each device to get them to find each other, and they don't require an ethernet drop. Rather, mesh devices self-configure, making the optimum connection for routing data among themselves. The best systems help you place routers for best performance around your house or office, too.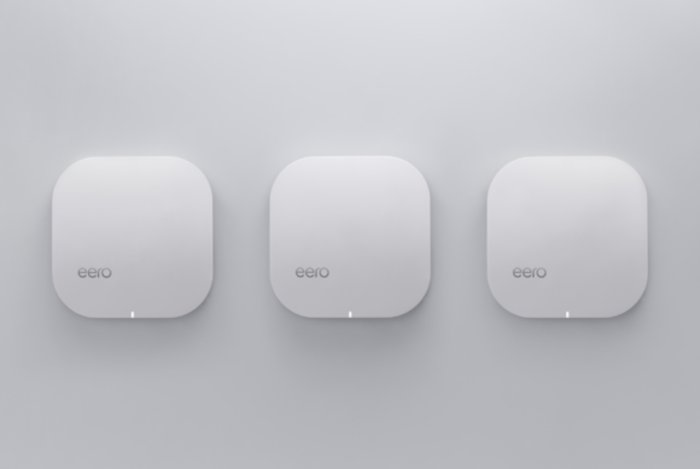 Mesh network setups like Eero typically come with multiple base stations.
While there's an industry standard for mesh networking, it's not used by the many systems in and entering the market. Rather, each relies on proprietary technology and approaches for intra-device connections, while still beaming out standard-compliant Wi-Fi to devices that want to connect to the network.
The proprietary nature of these systems, many of which come from startup companies, coupled with a cloud-brain component in several cases that drives how they work mean you could wind up high and dry with a partially or non-functioning system if the company that makes it goes out of business or shifts direction, or an established maker decides to end-of-life a product line. The Internet of Things (IoT) is littered with such examples already, and being an early adopter here means paying a premium to boot.
Previous Page 1 2 3 4 5 6 Next Page